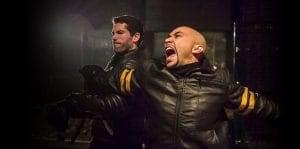 Scott Adkins is good looking, in a rugged, classic way, charismatic, funny, with an absolute commanding onscreen presence, and should've already become an A-lister. He has been acting since the late 1990s, starring in a score of movies and TV shows since then. Appearing in big-budget studio releases that seek mainly to use his impressive martial arts skills such as Doctor Strange and the Expendables franchise, as well as being the only redeeming quality in The Legend Of Hercules; the laughably bad Renny Harlin movie in which Adkins acts circles around titular hero Kellan Lutz. Given all this, it seems a cosmic joke that Adkins would find his most successful niche has been in direct-to-DVD action films. The world is better for it though, as not only were Ninja and the Undisputed sequels well received by critics, and audiences alike, but they helped destigmatize (to a small degree at least) direct-to-video genre fare.
Adkins's latest, Accident Man, based on the Pat Mills and Tony Skinner created comic series, highlights all the best elements of the martial arts savvy leading man fans have come to expect. Mike Fallon (Adkins) is an assassin working with a bevy of other hired killers, all with a unique style. That way whatever the current contract dictates can be fulfilled. Need to send a strong, violent, messy message to people? Carnage Cliff (Ross O'Hennessy) is your guy! Want the hit to appear to be a random theft or mugging? Hire the duo of Mick (Michael Jai White) and Mac (Ray Park). Fallon's specialty is killing people but making the murders appear to be accidents, or the occasional suicide, just to switch things up. Beth (Brooke Johnston), Fallon's pregnant ex-girlfriend and love of his life, winds up dead. This leads Beth's wife, Charlie (Ashley Greene), and Fallon into a fight for their lives, against Fallon's former team, to find out why Beth was killed and who hired them.
"…a fight for their lives…to find out why Beth was killed and who hired them."
Adkins grew up reading the early 1990s series, and his affinity for the material shines through this–his first screenplay. Written with Stu Small, Accident Man is peppered with witty one-liners and an engaging, swiftly paced plot. Character motivations are clear and sensible, but most of the people are one dimensional, so no one comes across as wholly realistic or well rounded. While the characters might be one note, two if they are lucky, that does not prevent the action dream team this movie brings together from being awesome. Considering Adkins wrote it, he plays to his strengths, which is kicking butt and rattling off quips. He excels brilliantly at both here. Michael Jai White brings the same sense of class and action know-how he has built a name on and delivers. It is, however, Ray Stevenson that takes the cake. His take on the older mentor archetype is hardboiled and whip-smart.
Director Jesse Johnson, the man behind the visually striking The Last Sentinel, as well as a renowned stuntman, leans hard into the comic origins of the project with a heavy emphasis on color. Each character, when introduced, is bathed in a specific colored light, which is then their primary color for the whole movie. Each time Big Ray (Ray Stevenson), the leader of the group of hired guns, is onscreen, there is red light hitting him somewhere, and yes, the colors do melt into each during the numerous fights. The edits are sleek as well, with a sequence that crosscuts between Fallon beating up an executive with knowledge of the ordered hit and the other killers preparing to attack him, building tension and momentum perfectly.
"…stylized directing…with a heavy emphasis on color…"
The most significant downside to Accident Man is Sean Murray's score. The music is never as upbeat or energetic as the rest of the movie, lacking the sense of cool fun of the dynamic directing, nor embracing the smooth charm of the script. It sounds tinny and rushed, lacking even an underlying theme for Fallon, much less the rest of the characters.
Accident Man brings together Spawn, the Punisher, and zealot Lucian (from MCU's Doctor Strange) into a brand new comic book adaptation. While a few flaws prevent it from hitting its full stride, it is as fun as that team up makes it sound. Stylized directing and great action scenes make this a treat for Adkins fans and genre enthusiasts alike.
Accident Man (2018) Directed by Jesse Johnson. Written by Scott Adkins, Stu Small. Starring Scott Adkins, Ashley Greene, Michael Jai White, Ray Park, Ray Stevenson, David Palmer.
Grade: B+