Abacus: Small Enough to Jail may be the first movie I've ever seen where the audience cheered for the bankers.
In most movies bankers are like Lionel Barrymore's Mr. Potter in It's a Wonderful Life: mean, cold and greedy. They use their power of the purse to crush people and take away their homes. No wonder people clapped when Warren Beatty boasted that he robbed banks in Bonnie and Clyde.
The Sung family, who run the New York-based Abacus Federal Savings, seem more like It's a Wonderful Life's George Bailey. Based in and serving the Big Apple's Chinatown, they are one of the few financial institutions that cater to the unique needs of the community. Their loans have helped establish countless local businesses. Because he's eaten at local restaurants, he knows which ones could use improvement loans and which ones can pay them back easily.
When people see the bank's founder, Thomas Sung, walking down the street, they greet him like an old friend.
"…Abacus is the only bank indicted as part of the 2008 financial crisis."
Curiously, the tiny Abacus is the only bank indicted as part of the 2008 financial crisis. As Steve James' (Hoop Dreams, Life Itself) latest documentary demonstrates, prosecutor Cyrus Vance, Jr. made both costly and potentially harmful mistakes. Abacus caught banker Ken Yu charging clients with "closing fees" that he pocketed. They fired him and turned him over to the authorities, but prosecutors argued Yu was part of a larger scheme.
The Sung family went to court, and while they were up against a powerful district attorney, they had one intriguing trait most defendants don't have: They are lawyers and can fight back.
It doesn't hurt, they're innocent of all charges too.
Abacus went to court in 2015 despite the fact that any issues they had are unrelated to the ones that caused the 2008 collapse. For example, their default rate is negligible. Whereas big banks like Goldman Sachs and J.P. Morgan Chase had portfolios loaded with questionable loans, they didn't have to defend themselves in court. Abacus did.
What's especially troubling about the case is that Abacus serves a market that larger banks wouldn't touch. Few of them would want to take the time to earn the trust of the residents of Chinatown or would know what the customers there would want. Abacus got a foothold in the community not through loans but by offering safety deposit boxes. Many of their customers did most of their business in cash and weren't familiar with how deposit accounts work in the States. If the trial had forced Abacus to close, there wouldn't have been other banks willing to fill the void.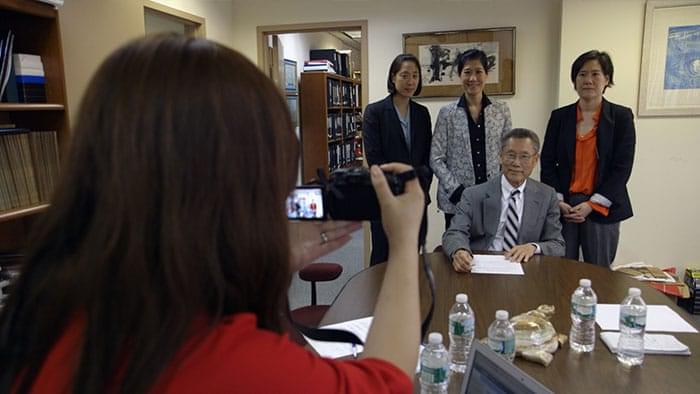 "…moves at a brisk pace and never feels dry or procedural."
Thomas Sung and his daughters Jill and Vera are remarkably telegenic. The two women are sharp and determined and belie the irritating stereotype of the submissive Asian female. They may be an enjoyable on-screen company, but James wisely does more than take them at their word. While Abacus is clearly on the Sungs' side, James has plenty of convincing evidence to accompany their assertions.
He includes damning audio recordings of Yu swindling a customer and post-trial testimony from jurors who were leaning against the bank. Vance and prosecutor Polly Greenberg tell their side of the story as well but didn't do themselves any favors by participating.
Both seem to misunderstand what happened at the bank and come off like understandably sore loses. Then again, they might have looked like cowards had they not talked to James and his crew at all.
The film also features testimony from journalists like Matt Taibbi, who explains why Abacus became a target when other banks seemed to get off scot-free. The New York Times documented the opening and the closing of the trial, but the case received scant coverage outside of this film.
Abacus moves at a brisk pace and never feels dry or procedural. It's easy to feel something for Vance because he is one of the few prosecutors who is willing to go after banks who've profited at the public's expense. It's too bad that he went after an innocent bank whose officers could fight back.
Abacus: Small Enough to Jail (2017) Directed by: Steve James. Starring: Thomas Sung, Jill Sung, Vera Sung, Matt Taibbi. Cyrus Vance, Jr., Polly Greenberg.
9 out of 10