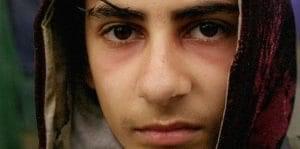 Desolate landscapes and darker circumstances dominate Vika Evdokimenko's short film, Aamir.
It follows 13-year-old Aamir (Alan Asaad) who has escaped his home only to end up alone in Europe's most infamous refugee camp, Calais. Based on a true story, Evdokimenko takes an unflinchingly honest look at what the word, "refugee," means today. She does it in 15 minutes, too, an impressive feat considering the depth of the definition.
Lonely, vulnerable, and utterly lost, Aamir is separated from his family in Mosul to ensure his survival. Featuring brief flashes of running for his life, we see him successfully smuggled into Calais, an unofficial refugee camp that grew infamous for its size, as well severe cases of police brutality, and horrific living conditions. The camp no longer exists today, as the French government ordered it razed in 2016, but hundreds of migrants still remain in hopes of finding a way across the U.K. border.
This knowledge is important because it makes the atrocities Aamir faces all the more tangible. Conveying his hopelessness with red-rimmed eyes, Assad plays the stranded young refugee in such a convincing way you have to remind yourself that what you're seeing is on-screen.
From opening credits to the film's final moments, we see Aamir's life as if it were a kaleidoscope of waking nightmares. He wakes to gunshots in his home, and from that point onwards we see him wrenched from his mother, smuggled into the camp, preyed upon by other refugees, and then eventually we witness him reach his breaking point.  
"…an unflinchingly honest look at what the word, 'refugee,' means today."
Painfully alone, our protagonist finds a brief respite from the coldness of his surroundings through supporting character Kaitlyn (Jasmine Blackborow). An overworked volunteer, Kaitlyn is the only person to demonstrate any form of kindness towards the boy. Still, her intentions to help are not enough, and even she manages to fall short in saving him from desolation.
Aamir is not an easy watch. But I suppose this is the entire point behind the short; it's not here to make you laugh, love, or get inspired. Rather, it exists as a stark reminder of the truth of the refugee crisis, and what it means for those caught in it.
Delivering its powerful call to action in a visually breathtaking way, it doesn't come as a surprise that the man behind the lens is cinematography legend Robbie Ryan. Ryan does it again with Aamir; masterfully panning close-ups with shots of unfolding landscapes, somehow managing to make the muted, dark tones of each backdrop come alive.
The whole 15 minutes is really a carefully crafted work of art, one that exposes the persistent problems facing unaccompanied child refugees today. The only fault in this depiction is that it is not nearly long enough. Evdokimenko wants you to understand a fraction of what those facing this go through, and through Aamir, she wants you to care. I dare you to watch this, and manage not to.
Simply put, this bare, unforgiving portrait is one that could be lifted straight from the lives of hundreds of thousands refugees. It forces us to acknowledge that Amir is one real story, in a sea of so many.
Aamir (2017) Directed by Vika Evdokimenko. Written by Oliver Shuster. Music composed by Jacaszek. Cinematography by Robbie Ryan. Starring Alan Asaad, Samia Rida, Jasmine Blackborow, Arian Rashid, Ako Ali.  
4.5 out of 5 stars