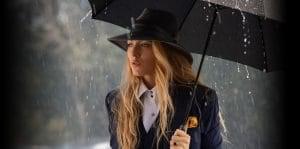 Paul Feig doesn't get nearly enough credit for his skilled versatility as a filmmaker. Whether he is riffing on a wedding disaster, a buddy cop movie, or a supernatural comedy, he constantly finds clever ways to skewer clichéd genre tropes in a way that is both adroitly subversive and endlessly entertaining. So, was there any doubt that he would be able to give an erotic thriller the same dexterous treatment? The sensuous, engrossing cocktail that is A Simple Favor comes out to one part Hitchcockian thriller, one part black comedy, and one part biting satire, hold the ice.
Based on the Darcey Bell novel of the same name, the film opens with overachiever single mom Stephanie (Anna Kendrick) using her vlog to search for her mysterious friend, Emily (Blake Lively), who has just turned up missing. With the authorities following all of the usual channels, Stephanie decides to start her own investigation, cozying up to Emily's novelist husband (Henry Golding from Crazy Rich Asians) and snooping around in her enigmatic bestie's past. She soon learns how little she knew about her new friend, as well as unleashing the skeletons hidden away in her own closet.
"…overachiever single mom uses her vlog to search for her mysterious friend, who has just turned up missing."
Following a burst of contemporary female-fronted psychological thrillers such as Gone Girl and The Girl on the Train, A Simple Favor carefully straddles the line between parody and homage, often settling into a campy elegance, not unlike that of Death Becomes Her. With its journey through a tonal kaleidoscope and a surprisingly effective mystery that also takes jabs at others of its ilk, Jessica Sharzer's whirlwind script keeps the viewers on their toes. Set to the jazzy swirl of French jangle pop, Paul Feig places his wry, twisted sense of humor on display, blurring the murky boundaries separating trashy and classy in the process. By the time the smoke clears, we're left with a shady, scandalous, tea-spilling roller coaster that beautifully captures what makes soap operas so enthralling for so many devoted viewers.
Paul Feig is known for is offbeat comedies, which often center on women unlocking their hidden potential. One thing we haven't seen from his previous efforts – at least not in such a flashy, hyper-stylized manner – is the incredibly detailed set design of A Simple Favor. Each frame is brimming with rich texture, from the garish outfits to the perfectly positioned decor, and it's all emphatically integral to the film's plot. The masterful imagery doesn't simply craft a desired aesthetic; it is telling the story. We are able to chart character development and plot fluctuation through an expert degree in visual language.
"The masterful imagery doesn't simply craft a desired aesthetic; it is telling the story…"
Chic, sexy, and just the right amount of sleazy, A Simple Favor is a stunning thrill ride, a viciously engrossing experience that has become so rare in studio filmmaking. With its whip-smart exchanges and relentless momentum, this captivating display is such a strange and welcome breath of fresh air in a season so hopelessly littered with toothless duds (I'm looking at you, Happytime Murders). Paul Feig delivers all of the pulpy charms of a kitschy paperback with all of the intrigue of an accomplished murder mystery. What more could you ask for?
A Simple Favor (2018)  Directed by Paul Feig. Written By Jessica Sharzer, based on the novel by Darcey Bell. Starring Anna Kendrick, Blake Lively, Henry Golding, Ian Ho, Joshua Satine, Andrew Rannells, Kelly McCormack, Aparna Nancherla, Rupert Friend, Bashir Salahuddin, Jean Smart, Linda Cardellini.
8 out of 10