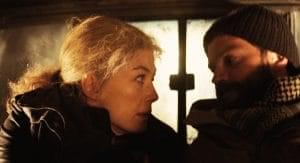 Biographic film (biopics for the lazy) are tricky beasts to get right. The storytelling can feel overly simplistic, hitting the high and lowlights of a person's life, and personal events feel shoved together like you're cheating on a jigsaw puzzle. In documentarian Matthew Heineman's A Private War, he tells the true story of war correspondent Marie Colvin in his first narrative feature. Colvin's inspirational life in such a way that you'd be crazy to want to live it unless you were that overly passionate about reporting the truth.
A Private War opens with the voice of the real Marie Colvin speaking as the camera rises above the ruins of Homs, Syria where she died reporting about the 28,000 innocent citizens caught in the middle of the Syrian civil war. The story then jumps back to 2001 as Colvin (Rosamund Pike), an American-born war correspondent for London's The Sunday Times, defies a Sri Lankan ban on journalists to uncover a humanitarian crisis of 500,000 innocent civilians. During her coverage, Colvin is caught in the crossfire while being escorted and is struck by shrapnel from an RPG. Colvin loses sight in her left eye, which she covers with her distinctive eyepatch.
"…defies a Sri Lankan ban on journalists to uncover a humanitarian crisis…"
Despite her injury, Colvin convinces her editor Sean Ryan (Tom Hollander) to let her return to her job. Months later, she is in Iraq following a lead she received about a mass grave just outside Bagdad. On-site in Bagdad, she enlists the services of freelance photographer Paul Conroy (Jamie Dornan) to ditch the safety of the reporter pool and follow her out to the site. Then the resourceful Colvin convinces a local construction crew to dig up the gravesite to uncover hundreds of Kuwaitis murdered by Saddam Hussein.
As heroic as Colvin appeared to be, she was not without her issues. On several occasions, Colvin would seek treatment for severe PTSD in London. Her life was a constant state of uneasiness, and her restlessness would drive her to return to dangerous assignments against everyone's wishes, especially her editor. At home, she alcohol was her medicine of choice. With fading hopes of normalcy, she falls for U.S. businessman Tony Shaw (Stanley Tucci), only to be drawn back like an addict to the war zone in Libya. One moment she is faced with mortality when her colleague Norm Coburn (Corey Johnson) is killed by an RPG, and in the next, she has a face-to-face interview with Gaddafi (Raad Rawi). Blink again, and she's standing next to Gaddafi's dead body in the heart of the Libyan resistance.
The transitions in Colvin's story are instantaneous and jarring. One moment, she's in battle, the next she's home at a party, confiding in a close friend, or recovering in a hospital. Each transition presents a title slate serving as a countdown to Colvin's death in Syria. These jarring transitions give us, the audience, a small feeling of what PTSD might feel like. Her nervous anxiety will never let her find normalcy or peace in life. Her passion and persistence compel her to bear witness to human atrocities around the world, especially the ones that are being covered up by the various governments.
"…a constant state of uneasiness, and her restlessness would drive her to return to dangerous assignments…"
A Private War, based on Marie Brenner's 2012 Vanity Fair article "Marie Colvin's Private War," is a dark and inspiring story of Colvin's dedication and sacrifice to uncover the truth. It also highlights the important role of journalism "in today's climate" as a check on world leaders. Inspiring because reporting the truth was more important to Colvin than her own life. Dark because this is a tough story to watch. While a journalistic hero, you get to watch the unraveling of a human being with what might have been a subconscious death wish in a way.
Rosamund Pike dives deep into Colvin's character including her voice and accent. She is acting in every sense of the word. Pike's portrayal shows the slow and steady deterioration of Colvin physically and mentally. It's torturous to witness at times. Pike is surrounded by a solid supporting cast, particularly Jamie Dornan as Paul Conroy, photographer, and comrade. But even this cast takes a backseat to Pike's stellar performance.
Depressed is a feeling you're going to walk away with A Private War. Colvin's downward spiral not only sucked the positive energy from her friends and colleagues, but it will take it away from you as well. Quite frankly, this is a good thing. Films don't always have to end with rainbows and lollipops to be powerful. Good films can end on a down note and then as the credit roll lead into a haunting song from Annie Lennox.
A Private War (2018) Directed by Matthew Heineman. Written by Arash Amel. Starring Rosamund Pike, Jamie Dornan, Tom Hollander, Stanley Tucci.
7.5 out of 10 stars