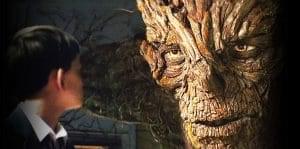 A Monster Calls is a film in the same vein as Coraline and Kubo and the Two Strings; children's movies that delve deeper thematically into adult concepts with the grace and competence necessary to keep both children and parents satisfied and captivated. I specifically mention two Laika films because that studio particularly has really stepped up and done wonderful and original things now that Pixar has become somewhat stale and redundant as of late. A Monster Calls isn't afraid to touch upon ideas and concepts associated with something that every single human being on this planet will eventually have to face, and that's death, loss, and how to cope with it all. It's a marvelous, visually gripping, and emotionally charged, delightful film teeming with heart and meaning.
Based on a novel by Patrick Ness from an idea by Siobhan Dowd; full disclosure, I have not yet read the book and I don't know how it measures up as an adaption, but I do know Patrick Ness wrote the screenplay, so I'm guessing it'll be fairly faithful. Siobahn Dowd had the idea for A Monster Calls while she was tragically experiencing her own struggles with terminal illness, and the premise is ripe with authenticity and sincerity; Patrick Ness took Dowd's story and finished it into a final product that was a touching tribute to his late friend.
Lewis MacDougall plays Conor, a young British boy living with and caring for his Mother, (played by Felicity Jones) while she goes through treatment for cancer. Conor clashes with his strict Grandma, played by the always-brilliant Sigourney Weaver, as the two both come to terms with the seemingly inevitable loss of their mutual loved one in their own distinct ways. The story delves into the realms of fantasy when the titular Monster appears before young Conor during a nightmare; The Monster explains to the boy that he will tell him three stories, and the fourth one will be Conor's to tell. The stories parallel certain things Conor is going through in his own life while also exploring the feelings of rage, hope, loneliness, and selfishness a person feels in these kinds of situations.
I've heard a lot of criticism about how The Monster looks, so I'll address it; yes, he looks like Groot from Marvel's Guardians of the Galaxy, but the book was released in 2011 and hardly anyone even knew who Groot was before 2013. The concept of walking, talking trees is a lot older than Groot, so those who laughed and snickered at the trailer need to back off and shut the hell up. Liam Neeson does an amazing job as The Monster who can be frightening and ferocious, and then other times wise and composed. The stories The Monster tells are beautifully rendered in stylish watercolor animation sequences that provide an exceptional aesthetic, again, reminiscent of a Laika film, and less Disney or Dreamworks. The computer-generated effects for The Monster are phenomenal as well, and even the live action recurring nightmare Conor suffers from is disturbingly believable and realistic. Nothing in this movie looks cartoonish, or incompetently done.
"There is a scene between Conor and The Monster that moved me to tears; the scene in question examines the more selfish feelings someone experiences when they're watching a loved one die."
The film's flaws mostly rest on the shoulders of Lewis MacDougall; I just feel like he's not a strong enough actor at this point in his career to carry the very weighted dialogue and emotional moments his character goes through and has to exposit. He has moments where he's believable and enthralling, so I feel he'll grow into his craft quite nicely in the years to come, but here he has some very bad acting choices that took me out of the movie. Lewis MacDougall isn't unlikeable, but he does have his fair share of unlikeable moments. I wish Felicity Jones' character was in the movie a bit more, I feel like I wasn't very attached to her; I think spending more time her would have been greatly beneficial. Toby Kebbell plays Conor's Father, and their interactions are enjoyable, albeit brief; but that's the point of the character. He lives in the US and has a new family he's involved with; he's there solely to make Conor's character feel lonely and abandoned. Sigourney Weaver is wonderful, and she plays her character like someone trying to remain strong and keep it together for her family, while she's simultaneously coming apart at the seams. When she has moments of weakness, they're handled convincingly.
There is a scene between Conor and The Monster that moved me to tears; the scene in question examines the more selfish feelings someone experiences when they're watching a loved one die. In a sea of children's films that are all fluff and pop songs, with no substance or thought put into them, films like A Monster Calls are important and vital to the growth and development of young minds. These films open up a dialogue between adults and children, and unite them in extremely important ways. As an adult, you can enjoy the visuals and the story, as well as the adult actors; all of these aspects are done competently enough for me to recommend this film to almost anyone. It has universal appeal, and something important and meaningful to say.
A Monster Calls (2016) Directed by: J.A. Bayona. Written by: Patrick Ness, Siobhan Dowd. Starring: Lewis MacDougall, Felicity Jones, Liam Neeson, Toby Kebbell, Sigourney Weaver.
8 out of 10