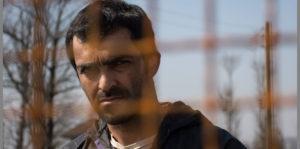 Mohammad Rasoulof received considerable praise from the international cinema community for his film There is No Evil. The recognition was well deserved as it was on my and many other critics' best picture list. Now, the writer-director is back with A Man of Integrity, which gives us a further glimpse into the filmmaker. While produced first, in 2017, the drama has been floating on the festival circuit for a while, only now getting a wide release in North America. The unifying throughline of both titles is a penetrating critique of Iranian society. For those unfamiliar with Rasoulof's personal story, he has been in and out of legal troubles in Iran due to the subject matter he tackles. In fact, one could argue that this was the movie, more than any other, that initiated Rasoulof's status as persona non grata in Iran.
Reza (Reza Akhlaghirad) is a hardworking fish farmer trying to eke out a decent living for his family. He has accumulated loan debts, but that is not his biggest problem. His most significant issue is that Reza's being pressured to abandon his property and land by a group of small-town heavies known in the town as The Company. They go so far as to affect Reza's fish farm by cutting off his water supply. Reza knows bribery is the only way. Heck, everyone in the town knows greasing someone's palm is the only way of getting anything done. So much so that the script makes it very clear that the way to get anything done in this town, and by implication, in Iran writ large, is through bribes.
But things are never that simple in Rasoulof's world, which teems with ethical dilemmas. Sure, paying someone off is distasteful and morally questionable, given it most hurts those who are least able to. But, as one of Rasoulof's characters makes it clear, it may be a necessary evil in a system made up of poorly paid civil servants. Bribery may be the only way for such a system to function, a reality the main character is fully aware of. But, as the title implies, Reza is a man of integrity. His wife (Soudabeh Beizaee) asks him to give in, to recognize the reality around him. She does not want to lose her home. Their son's life is also being affected as problems mount at school. Still, Reza refuses to give in.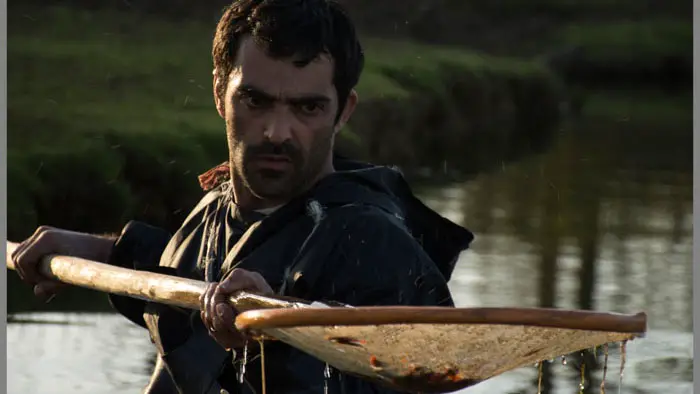 "…Reza's being pressured to abandon his property and land by a group of small-town heavies…"
It is hard to imagine a different actor as the protagonist of A Man of Integrity other than Akhlaghirad. He plays Reza with a firm, steely gaze that conveys his resolve not to submit to the bribery and corruption around him. It is precisely that resolve in the actor's face that creates the dramatic tension for the viewer. Will he stay strong or give in to the pressures surrounding him? Beizaee's performance as Reza's wife is just as noteworthy and perhaps an even more difficult role to execute. She interprets a character pulled in different directions — loyalty to her husband, her desire to keep her house, work-related stressors, and love for her son. Both actors shine in a memorable and heartbreaking scene involving a flock of birds that invades their property. Both actors are believable through and through.
Now, I must be clear. If your first exposure to Rasoulof was There is No Evil, you may feel a bit let down by A Man of Integrity. That is not to say that this is a subpar film, as it is definitely a satisfying drama. The truth, however, is that the later picture is outstanding and opaques Rasoulof's previous work. But, you'd still be wise to seek this out as soon as possible and allow yourself to be pulled into the unceasing wonderment that is Iranian cinema.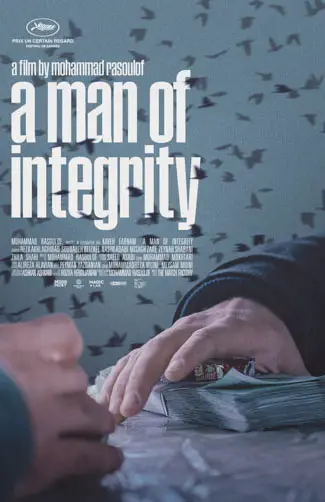 "…a penetrating critique of Iranian society."