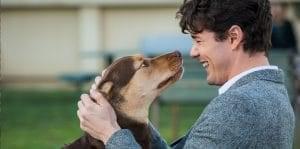 Up next in the series I call Movies-I'm-Forced-To-See-Because-I-Have-A-Kid is A Dog's Way Home. I did not choose to see this film, but I did, and it's exactly what you'd expect it to be. It's the story of a cute dog trying to find her way home symbolizing the bond between dogs and their owners.
Lucas (John Hauer-King) is an aspiring med student and works as a volunteer at the local Colorado VA Hospital, where his mother, Terri (Ashley Judd), attends her VA support group. Across the street from there home is a demolished residential site and underneath the rubble is a family of cats. One day a pregnant dog joins the cat family and gives birth to a litter. As the dogs/cats/puppies/kittens, co-exist, the building developer invades the animals' underground home. All of the dogs are either chased off or captured by the animal control officer. All except little Bella, a cute mutt-mix. Alone, the mother cat lets Bella nurse along with her kittens, but this situation can't last long.
As Bella quickly grows, she is spotted by the good-hearted Lucus. Bella is now Lucas and Terri's dog, complicated only by the fact that the home he rents doesn't allow dogs and Bella is declared a pit bull and according to Colorado Law, illegal to own in the state. If Bella is ever found outside of Lucas' home, she will be taken by the evil Animal Control Officer and destroyed.
"She escapes and makes the long trek home across Colorado's cold mountainous forest…"
As Bella starts to grow, she bonds more and more to her master Lucas. They play fun games as a way to teach how not to be caught by Animal Control, and she even finds a job becoming a support dog at the VA hospital, which is against the rules—so SHHHHH!
All good things must come to an end, and Bella is caught. The distraught Lucas makes a deal to have Bella stay with his girlfriend's parents 400-miles away, never to return to their city again or lights out for Bella. Upon arrival with her new family, Bella is confused from her separation from Lucas and decides to "go home." She escapes and makes the long trek home across Colorado's cold mountainous forest. Along the way, Bella befriends a group of campers, a lovely same-sex couple, a homeless gentleman, and a bobcat. Will Bella finally make it home or will she perish in the bitter Colorado winter?
As with all cute animal films, Bella talks…well, we (the audience) hear her inner thoughts. Voiced by Bryce Dallas Howard, we gain an understanding of how humans think dogs think…what? Bella is fundamentally an optimistic, fun-loving child, who is fiercely loyal, naïve about the human world, and sees everything as a game. Best of all, Bella loves to be loved.
"…an exceptional film, that you'd find on the Hallmark Channel."
The best thing I can say about A Dog's Way Home is that it's an exceptional film, that you'd find on the Hallmark Channel. Science has yet to count just how many strings the human heart has, but A Dog's Way Home tries to pull every damn one of them. Kittens, puppies, veterans, the homeless, a loving same-sex couple are all on the checklist of emotional manipulation and then some.
Let's also add solid acting from Ashley Judd and Edward James Olmos and the direction from veteran actor Charles Martin Smith to balance the sap and tears. Yes, I teared up at the end. I didn't want to, but I did. I don't want to say I was emotionally used, but it sure felt that way.
A Dog's Way Home (2019) Directed by Charles Martin Smith. Written by W. Bruce Cameron, Cathryn Michon. Starring Bryce Dallas Howard, Ashley Judd, Jonah Hauer-King, Edward James Olmos, Alexandra Shipp.
7 out of 10 stars