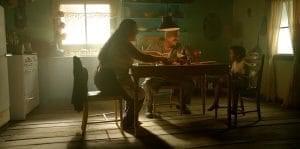 A Boy Called Sailboat follows the life of young Sailboat (Julian Atocani Sanchez) who lives in the southwest of the United States with his imposing but lovable dad José (Noel Gugliemi) and sweet-natured cook of a mom Meyo (Elizabeth De Razzo). Meyo does not leave the family's wooden house, for fear of ridicule from others about her size. Said house slants and is held up only by a wooden beam buried into the ground.
Sailboat and his best friend Peeti (Keanu Wilson) play on their school's soccer team; though Peeti is the waterboy, as he is unable to blink and must water his eyes every few minutes. When not at school, Sailboat hangs out at the local used car lot, run by Ernest (J.K. Simmons). Ernest does not mind the company and, in fact, practices his sales pitches on the boy. At the lot sits a sailboat, which Sailboat wants to own one day.
One day, Sailboat comes across a little guitar in excellent condition. While visiting his sick grandmother Abuela (Rusalia Benavidez) in the big city, she requests that Sailboat plays a song for her. Since he does not know any, he promises to write her one and perform it on his next visit. Sailboat reaches deep within himself and finds the perfect song. When he plays the song for his teacher, Mr. Bing (Jake Busey), and the rest of the class after a field trip, it moves everyone to their very core. As word of Sailboat's amazing song spreads, people flock to his house to hear it, setting off a chain of events that changes everyone's lives forever.
A Boy Called Sailboat, written and directed by Cameron Nugent, is narrated by Sailboat himself, but not as an older man looking back; instead as the child. This is where Nugent's masterful screenplay reveals its true depths. Sailboat describes that the old mailman once told his mom that she "should stop cooking all those meatballs as she's a meatball" herself. The kid goes on to explain that his dad's genial smile stopped and he got "that look on his face," so now his family has a new postal worker.