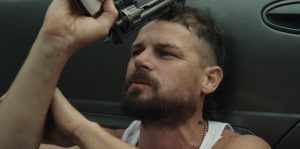 3 Day Weekend opens on a casual camper, Ben (Morgan Krantz), driving out into nature, then choosing the worst possible campsite, as he stumbles across disturbing occurrences out in the woods. He parks beside another car that is apparently abandoned, sitting at a random angle, as if someone had hurriedly left the road, so he investigates. The first thing Ben sees is a cell phone lying on the ground that appears to have been dropped. When he opens the trunk to see a woman bound and locked inside, he finds himself dodging crossbow bolts and running for his life.
Writer/director Wyatt McDill's thriller is a fiendishly entertaining indie film with very little dialogue. McDill uses a standard low-budget approach to filming in the woods, but he has crafted a story for which the setting has maximum effect and makes perfect sense without feeling forced or artificial.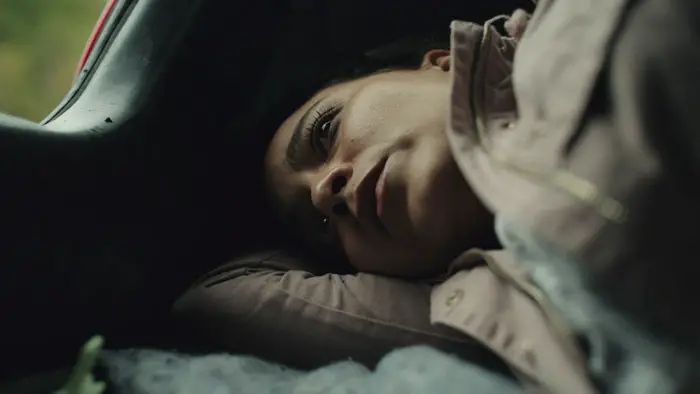 "…opens the trunk to see a woman bound and locked inside…"
You may be skeptical that a 90-minute movie could be watchable without dialogue, subtitles, or anything conveying language. Still, McDill pulls it off in a way that not only keeps the viewer engaged but also guessing what's really going on until the end. The communication that does occur between characters is either through written notes or text messages. This effectively provides the only exposition in the film and as a plot device, given that cell service in the remote area is spotty, so the signal drops out at pivotal moments. This also results in texts arriving late, when the signal is restored, and out of sequence.
The other conceit that enables a dialogue-free motion picture to seem natural and not like a goofy gimmick is that the central character, Shan (Maya Stojan), is deaf. The opening minutes are chaos, decipherable only in retrospect, but your patience will be rewarded as the details of the plot surface slowly. One of the confusing factors is that 3 Day Weekend is told out of sequence, with the POV of each character explored in Rashomon fashion. They each have a different experience, but when the viewer is able to revisit an event from another character's perspective, the clues begin to fall into place. One character knows what it's all about, and it's up to the viewer to solve the puzzle and connect the dots to rationalize what you've seen and understand what's coming.
The lack of dialogue seems contrived at first, and in the wrong hands, this movie could have been dull as ditchwater, but here it's in the exact right hands. McDill takes you on an engrossing adventure with a colorful, eclectic set of characters you won't soon forget. The promotional description for 3 Day Weekend calls it "a puzzle thrill-ride told with no dialogue," and it succeeds in hitting all of those marks admirably.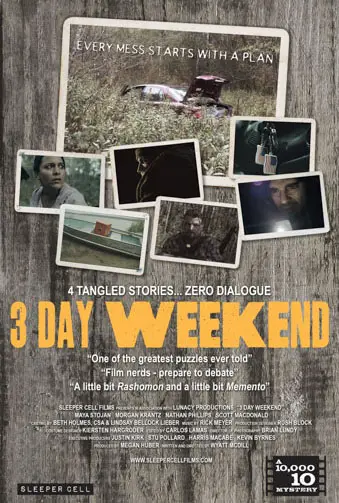 "…keeps the viewer engaged but also guessing what's really going on..."