NEW TO NETFLIX! What does a perfect society look like to you? Is it the freedom to allow people to do whatever they want, consequences be damned? Perhaps you aren't a people person and want to be left alone with your thoughts. Maybe your ideal world is one where all your neighbors say hi and have a standing weekly dinner party to which you are always invited. If you could make people bend to your will and actualize your utopian civilization, how far would you go to do just that?
Writer-director David Marmor's feature-length debut, 1BR, takes these ideas and grafts onto a cult-horror framework. The results are a mostly successful and engrossing merger of ambition, talent, intrigue, and fear. Sarah arrives in Los Angeles to pursue her dream of becoming a costume designer and to start anew after the death of her mother. Her mom's suffering from cancer created a rift between her father, as Sarah caught him having an affair with the attending nurse.
In short order, Sarah lands a temp job, where she instantly hits it off with the brassy Lisa (Celeste Sully). Then, Sarah receives some fantastic news: she has been approved for a small, but nice, one-bedroom apartment in a complex where all her neighbors are helpful, kind, and courtesy to everyone. While it seems to be a dream come true, Sarah's having trouble sleeping at night due to the creaking and unsettling noises of the pipes.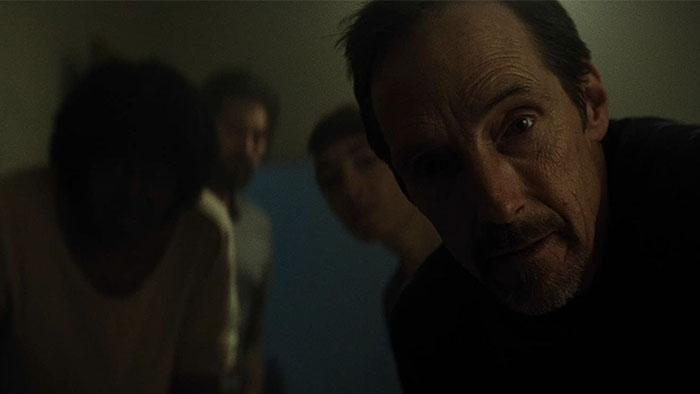 "…this perfect place is like this through torture and brainwashing…[Sarah] is at first resistant, but after a while, she does come around…"
Then the truth comes out – this perfect place is like this through torture and brainwashing. Some 30-years ago, Charles Ellerby (Curtis Webster) thought of a way to "cure" people of their bad habits and vices through punishment and technology. Now his disciples, chiefly Jerry (Taylor Nichols) and Brian (Giles Matthey), to whom Sarah is somewhat attracted, are converting people to this way of thinking, by any means at their disposal, including physical torture and mind games. She is at first resistant, but after a while, she does come around to their way of thinking. Or does she?
Thankfully, Marmor avoids the usual torture porn tropes it appears 1BR is heading down once the truth is revealed. But, there are a few issues along the way. Chiefly, how easy it was for the complex to shut down Sarah's bank account, without access to certain information that would be required to do so. Yes, there are people always watching, listening, and gathering data on prospective converts. But even given that, it strains credibility that everyone at all these institutions the cult calls and mimics being Sarah have very loose security.
While necessary for the plot to continue, I feel like there should be more of an explanation of how they did this, or frame it as a data breach that sucked all her funds dry. And unless she contacts the bank by a specific date, they cannot start a claims process. The cult can shut off her wi-fi, steal her phone, and the like, all of which would be more believable than how it is currently presented. And that idea is just off the top of my head.
"…what does a perfect society look like to you?"