On a rainy night on a curiously deserted city street, Jin (Jerry Chih-Wei Huang) – the protagonist of Yiguo Chen's short film 11:50 – is faced with a decision that ought to be a lot tougher for him than it turns out to be.
Driving around aimlessly, the drug-addicted Jin accidentally plows his car into another man, killing him instantly. It's a life-altering moment, and the way that Jin responds to it will reveal with perfect clarity the true makeup of his moral fiber. So, does he alert the authorities as to what he's done? Seek out the dead man's loved ones and beg for forgiveness? Stay, in a state of shock, and ponder the fragility of human lives?
For Jin, who acts as decisively as anyone could in such a situation, the choice is simple, surprising, and certainly does say a lot about who he is.
He robs the guy and flees the scene.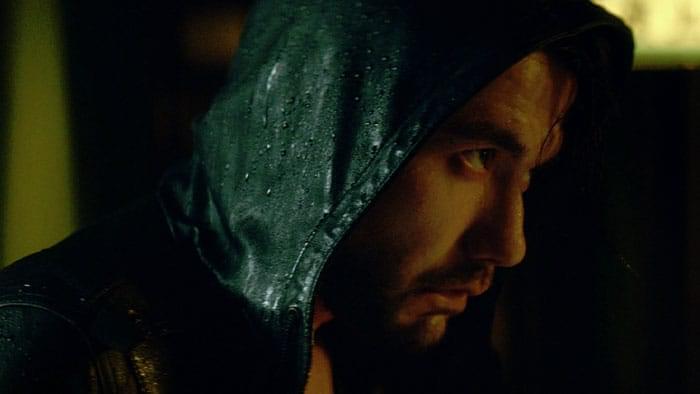 "Driving around aimlessly, the drug-addicted Jin accidentally plows his car into another man, killing him instantly…"
Those are the opening moments of the stylish, well-paced, and efficiently directed 11:50, and they're so striking in their coldness that it might be easy to miss what else is revealed within them. In searching his victim, Jin finds – and, of course, takes – a wristwatch, a hotel room key, and a cell phone. Moments later, a text message on the phone reveals the location of something hidden and, likely, valuable: "It's in the toilet sink." Smart enough to put two-and-two together, Jin correctly suspects that the text is referring to the very hotel room (number 1150) that he's just acquired the key to, and that's where he immediately heads.
What Jin finds in room 1150 – it both is and isn't what he expects – is a reveal best left for audiences to discover on their own, and even impatient viewers are likely to stick around long enough to do so. Writer/director Chen, who's built his career directing television commercials, imbues the nine-minute short with a relentless narrative drive, and like the best TV advertising, it doesn't let viewers out of its grip for a second – no pauses to breathe, not a shot wasted, hardly any letup at all in its rush of movement and incident.
That whirlwind pacing, as well as the film's strikingly saturated color palette and noir-ish style (dramatic lighting, lots of rain, snippets of anachronistic 1940s-sounding music all over the place), are 11:50's greatest strengths – simply put, the film moves, and its visuals are polished and appealing throughout. What's a little less effective, though, is the overall thrust of its story. The ending is something of a letdown, not because it doesn't work, but rather because the film sets up so many intriguing possibilities, one wishes it would pay them off less conventionally and predictably than it does.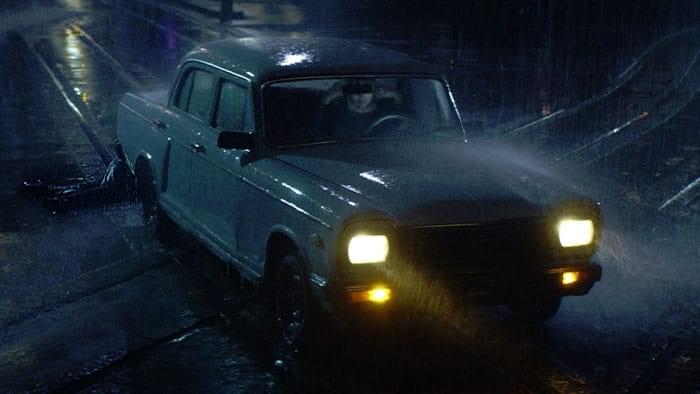 "…a piece of pure cinema – it's kinetic and engaging and chic-looking…"
Likewise, while 11:50 does seem to be reaching for some greater thematic purpose, its development is murky at best. Is the film a meditation on the destructive cycle of addiction? A quasi-metaphysical morality play about how bad choices inevitably lead to more bad choices? It's hard to tell, and the short running time whips by so quickly, the symbolism – a looming clock tower, a mysterious little girl with a parasol – feels disconnected from the action and never really has a chance to take root.
Thus, 11:50 is best enjoyed simply as a piece of pure cinema – it's kinetic and engaging and chic-looking, and though it doesn't have much of an emotional or intellectual core that would resonate after the end credits roll, it's a trip worth taking at least once.
11:50 (2019). Written and directed by Yiguo Chen. Starring Jerry Chih-Wei Huang, Isabelle, Liu Guoping, Zhang Jinlong, Zhang Dabao, Xiao Hui, Zhang Jie, Tang Dongdong. 11:50 screened at the 2019 Tribeca Film Festival.
6 out of 10