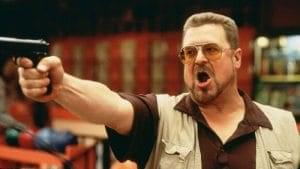 It's been, like, 20 years man, you know, since that whole rug micturation, uh, urination, you know, ah, debacle. That aggression with the nihilists, man, with Walter and Bunny, and Mr Lebowski. 
The Big Lebowski is coming around again for a 20 year anniversary victory lap to more than 600 theaters for two days only on Sunday, August 5th, and Wednesday, August 8th at 2:00 p.m. and 7:00 p.m. Hang with The Dude again on his frustrated mistaken-identity quest for his favorite rug, the one that really tied the room together.
Inspired loosely by the complex plots of Raymond Chandler, part noir crime drama, part absurdist comedy and completely Coen, The Big Lebowski became a modern classic. Despite initially mixed reviews when it released in 1998, in 2014 it was named to the National Film Registry of the Library of Congress.
Beginning with the quest for the rug that has been – um – soiled, Jeff Lebowski (Jeff Bridges) and his buddy Walter Sobchek (John Goodman) take a wild trip through Los Angeles in a sordid tale of greed, intrigue, bowling, White Russians, a severed toe, and of course the other Lebowski – the big one (David Huddleston).
Jeff Bridges is "The Dude." Julianne Moore, John Goodman, Steve Buscemi, John Turturro, Philip Seymour Hoffman, Tara Reid and David Huddleston complete the cast of strange and delightful characters that help The Dude check and see what condition his condition is in.
Raise that White Russian and toast the return of The Big Lebowski. Two nights only then it's league bowling season and remember, never, ever roll on Shabbos. Man.
Theater locations and tickets at FathomEvents.com or at participating theater box offices.