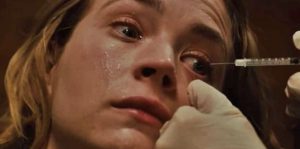 Screamfest LA will kick off on October 6 with the Opening Night screening of Books of Blood, based on Clive Barker's acclaimed and influential horror anthology BOOKS OF BLOOD. The feature from director Brannon Braga and executive producer Seth MacFarlane is slated to premiere as a Hulu original film on October 7. The film will screen under the stars at the stunning opening night location of Calamigos Ranch in Malibu, CA, and will take audiences on a journey into uncharted and forbidden territory through three uncanny tales tangled in space and time. The feature stars Britt Robertson, Rafi Gavron, Anna Friel, Yul Vazquez, and Freda Foh Shen.
The festival is the largest and longest-running horror film festival in the United States. Considered the "Sundance of Horror," this year the festival has moved entirely to drive-in screenings with a lineup of ten back-to-back nights of fright, each showcasing a feature film paired with a number of shorts.
The majority of the festival will be held outdoors at the Regency Plant Drive-In in Van Nuys on October 7-15. Special screenings include Halloween and Halloween II followed by a Q&A with legendary cinematographer Dean Cundey on Oct. 7th, 35th-anniversary screening of Friday the 13th A New Beginning – Oct. 8th, a free screening of Peacock's Mr. Mercedes – Oct. 13th with a post-screening Q&A with director Jack Bender, star Breeda Wool and members of the cast and Halloween 4 and 5 on Oct. 14th. Highlights from this year's program include the LA premieres of: Thirst, the first-ever Icelandic gay splatter vampire flick; Sanzaru, a captivating ghost story from filmmaker Xia Magnus; and The Brain That Wouldn't Die, a Frankenstein story with a retro twist. Australian psychological horror Sweet River, from director Justin McMillan, will make its North American debut, as well as Damian McCarthy's feature film debut Caveat. US premieres include: Adam Stovall's imaginative paranormal romance A Ghost Waits (currently at 100% on Rotten Tomatoes); French writer/director Baptiste Rouveure's Anonymous Animals; Australian apocalyptic dinner party An Ideal Host; and social media teen slasher Initiation from Screamfest alum John Berardo, which was recently acquired by Saban Films.
WHEN: Tuesday, October 6, 2020 – Thursday, October 15, 2020
WHERE: Calamigos Ranch in Malibu (October 6 only)
Regency Plant Drive-In at the Plant Shopping Center in Van Nuys (October 7-October 15)
TICKETS: Can be purchased at https://screamfestla.com/