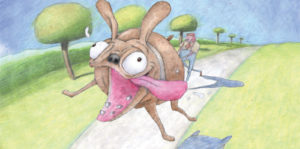 The Portland Festival of Cinema, Animation and Technology (PFCAT) has a special treat for animation fans this year. Bill Plympton, the acclaimed director and animator known for his distinctive style and independent spirit, will appear at the festival on August 4th at 8 pm.
Admission to this special event is $25 and includes the screening, presentation, and reception at Theory Restaurant. After the screening and presentation, Plympton will sign autographs and offer complimentary sketches to audience members. Tickets are available at https://omsi.edu/events/portland-festival-of-cinema-animation-and-technology/.
Mr. Plympton, known as the "King of Indie Animation," will show some of his past works that he likes best, as well as scenes from his new animated feature, Slide. The film is about a legendary cowboy who shows up in a 1940s logging town that is full of corruption. The animated western takes place in Oregon, where Mr. Plympton was born, and is his 9th animated feature film.
Mr. Plympton grew up on the Clackamas River and attended Oregon City High School and Portland State University, where his cartoon work was first published. After moving to NYC in 1969, he continued to do work for Willamette Weekly and The Oregonian.
Twice nominated for an Oscar for his animated shorts Your Face (1988) and Guard Dog (2004) and the winner of the Prix Special du Jury at the Cannes Film Festival for Push Comes to Shove (1991), Bill Plympton's animation style is unmistakable and iconic. Other career highlights include directing and animating numerous music videos, including "Weird Al" Yankovic, 8 The Simpson's Couch Gags, and over 40 animated shorts. The Academy Film Archive currently holds a collection of over 180 Plympton items.
The Portland Festival of Cinema, Animation and Technology is coming to the Oregon Museum of Science and Industry (OMSI) on August 3rd – 6th. The festival will screen 119 films worldwide, including 110 World or Regional Premieres, and feature 68 animation projects in different styles and techniques. The festival will also have panel discussions, parties, and presentations on various topics related to cinema, animation, and technology. Check out www.pdxfestofcinema.com for the full schedule and program.