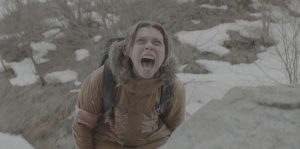 Arclight Films announced today its North American distribution deal of Grindstone Entertainment Group's horror thriller Let It Snow. The film will be released On Demand on September 22, 2020. Grindstone Entertainment Group recently announced the renewal of its longstanding partnership with Lionsgate.
"We are delighted to have our long-time friends at Grindstone Entertainment Group distribute Let It Snow in North America. Their skilled, dedicated, and experienced team are the perfect group to bring the brilliantly executed standout thriller to domestic audiences. With breathtaking settings and captivating production values, Let It Snow is a tour de force," said Hamilton.
Let It Snow stars Ivanna Sakhno (The Spy Who Dumped Me, Pacific Rim: Uprising), Alex Hafner (Submergence, The Councellor), and Tinatin Dalakishvili (Abigail). Stanislav Kapralov makes his feature film directorial debut from a script he wrote with Omri Rose.
This powerful edge-of-your-seat thriller follows Mia, a free-riding snowboarder, who is separated from her fiancé after sneaking onto a restricted slope. She must not only survive against nature, but also a masked snowmobile rider who's out for her blood.
Arclight Films' current slate of films also include horror-thriller Bloody Hell; cult thriller The Color Rose by Courtney Paige; The King's Daughter, starring Pierce Brosnan, Kaya Scodelario, and narration by Julie Andrews; warmhearted comedy Butte; epic female-driven action film Tomiris which will be released in the U.S. by Well Go USA; Twist starring Michael Caine; Here Are the Young Men starring Travis Fimmel, Dean-Charles Chapman, Finn Cole, and Anya Taylor-Joy; sci-fi live-action mecha film Heavens: The Boy and His Robot; Sundance's critically acclaimed sci-fi thriller Possessor starring Andrea Riseborough, Christopher Abbott, Sean Bean, Jennifer Jason Leigh, directed by Brandon Cronenberg to be released in the U.S. by NEON; and the true-life prison break story, Escape from Pretoria released in the U.S. by eOne, starring Daniel Radcliffe.