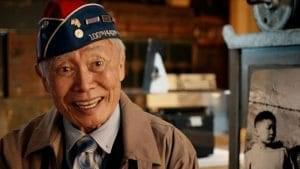 Now in its fourth year, the GI Film Festival San Diego, San Diego's six-day military film festival, is back to feature more untold and underrepresented stories of America's military through film. The six-day, San Diego military film festival kicks-off with a screening and reception on Tuesday, Sept. 25th from 7 p.m. to 10 p.m. at the Museum of Photographic Arts in Balboa Park. The evening includes screenings of the narrative short American starring George Takei, followed by the documentary short, The Registry. Takei will attend the screening and the reception.
Both opening night films focus on World War II events and emphasize the important roles and services that Japanese-American military members provided throughout the war. In addition to Takei, the directors of each film will attend the opening night celebration, including a panel discussion after the screenings.
"Every year, the GI Film Festival San Diego features underrepresented military stories and topics that are very eye opening and often takes audiences by surprise," said Jodi Cilley, founder and president, Film Consortium San Diego. "These are the untold stories of diversity that have helped shape our country's history. We've selected these two films to open this San Diego military film festival because they both highlight a group of veterans who did so much for Allied Forces during World War II, but have not received their rightful acknowledgment."
American
A 94-year-old veteran, played by actor and activist George Takei, who works as a volunteer at the Japanese American National Museum, encounters a mother and her young daughter, brings back to him events from his past from his time in a Japanese-American internment camp and later serving with the 442nd Regional Combat Team in World War II. Directed by Richie Adams.
The Registry
The Registry breaks open the hidden history of the U.S. Army's Military Intelligence Service (MIS) during World War II – a story made possible because of a few aging veterans with a little Internet savvy and a lot of determination. There's little doubt the 7,000 soldiers of the MIS helped shorten World War II by as much as two years. Most World War II veterans have passed on. Many have told their stories, recorded for history. But for those in the MIS that were Japanese Americans, also known as Nisei, and fought in the Pacific against the Japanese enemy, many of their stories have been lost, as the unit was sworn to secrecy for decades after the war. There was also no complete record made by the U.S. Army about who actually served in the unit.The Registry profiles a few of those who served in the MIS, including surviving veterans, Seiki Oshiro and Grant Ichikawa, as well as other veterans who help tell the unit's story. The film looks at decisions made in a time of war regarding loyalty to country while facing racism and the mass internment in the U.S. of people of Japanese descent. Directed by Bill Kubota and Steve Ozone.
GI Film Festival San Diego will continue through Friday, Sept. 28th at the Museum of Photographic Arts. The festival then moves to UltraStar Cinemas at Hazard Center for the Saturday, Sept. 29th and Sunday, Sept. 30th screenings.
All Access Passes for entry into festival events, including the opening night screening and reception, and all screenings are available now at GIFilmFestivalSD.org. Many of the events will be open to the public with discounted opportunities for active duty personnel and veterans. More details on the full film festival lineup will be announced in early August on the festival's website.
Established in 2015, the GI Film Festival San Diego aims to reveal the struggles, triumphs, and experiences of service members and veterans through compelling and authentic storytelling. Documentaries, shorts, narratives, and family-friendly films are presented, highlighting stories of heroism, resilience, and honor.