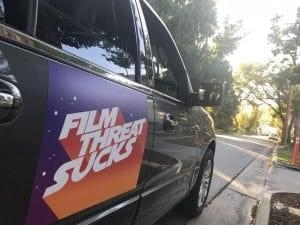 We are coming to Sundance!
Fearless leader Chris Gore and a band of miscreants will be in Park City, Utah to bring you the best of the festival.
If you are there, look for the Film Threat car.
Legion M takes over the Red Banjo Pizza Parlour at Sundance!
"On Sunday, January 21, the Legion M Lounge plays host to one of indie film's most influential voices, Chris Gore's Film Threat. From 7:30 p.m. to 8:30 p.m., Gore will podcast live, discussing the films premiering at Sundance and the talented filmmakers behind them. Fans can listen to the podcast on iTunes. Then, from 8:30 p.m. to 11 p.m., Chris Gore, in partnership with Legion M, will close down the Legion M Lounge with the Film Threat Sucks party."
Stay tuned here and on social media for reviews, news, podcasts and more!