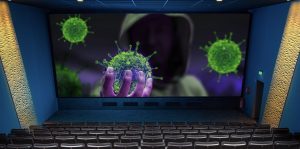 While the big studios are left in a holding pattern during this lockdown, you're sitting at home with a camera in your pocket. Now's the time to make that movie and then enter that movie in a film festival. It doesn't get much easier than that.
Consider the Film Consortium San Diego's Quarantine Film Challenge. Already accepting submissions and open to local, national, and international filmmakers, this well-timed filmmaking competition ends Friday, June 5, 2020.
Filmmakers have until the June 5th deadline to write, edit, shoot, and submit an under five-minute film about or inspired by their experience during the COVID-19 pandemic. All filmmakers are asked to comply with all current limitations and quarantine measures as mandated by local, regional, or national governments.
The Quarantine Film Challenge is a partnership between the Film Consortium San Diego, KPBS, San Diego International Airport's Arts Program and Panasonic USA. The Film Consortium San Diego will be releasing select films on social media and screening the best of the films during the 2020 San Diego Film Week in August. There will also be an audience choice award given to the film that gets the most "likes" and "shares" on social media.
"Life has changed dramatically since the beginning of the pandemic and one positive aspect of this is that many have had time to create art and showcase their creativity through the many platforms available to us in this digital age. The Quarantine Film Challenge hopes to inspire new or established filmmakers to tell their stories and capture this historic moment in films" says Jodi Cilley, Founder and President, Film Consortium San Diego.
In addition, San Diego International Airport Arts Program will be putting a selection of the produced films on their website, and KPBS will broadcast a selection of the films on TV. The winner of "best film" will be awarded a $500 gift card to purchase a Panasonic Lumix Camera or lens at Nelson Photo Supplies, in San Diego, CA courtesy of Panasonic USA.
"KPBS has long been a trusted companion, so during self-isolation we want to do what we can to make the situation a bit more bearable. The Quarantine Film Challenge is a good outlet for the creative community that will translate into some entertaining programs for the KPBS audience. This partnership means that creativity will prevail," says John Decker, Director of Programming at KPBS.
In order to participate in the challenge, filmmakers must adhere to the following rules and regulations:
1. Write, Shoot and Edit a narrative film, documentary film or experimental film under 5 minutes.
2. Film can be based on a true experience during the pandemic OR inspired by the pandemic.
3. For films that are not clearly about or inspired by the pandemic: The word Coronavirus, COVID-19, Quarantine, or Pandemic must be spoken on camera by one character in the film.
4. Filmmaker must follow all guidelines of quarantine, social distancing, and personal hygiene and safety as required by your governing body (local, regional, or national). Films that clearly do not follow these guidelines will be disqualified.
5. Filmmaker must Include two creative elements in the produced film as noted in the requirements listed on the submission website.
6. Filmmaker must complete all paperwork, release forms, etc. and hand in with the film.
Filmmakers will be given until May 15 to submit their film for free and until Friday, June 5, 2020 to submit for a $25 fee.
Films can be submitted at filmfreeway.com/QuarantineFilmChallenge before the deadline of June 5th at midnight.