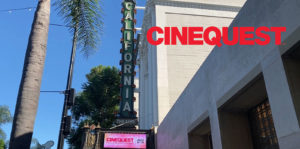 Get ready for a summer blast with the Cinequest Film & Creativity Festival. The festival will run from August 15th to 30th, offering thrilling film screenings, red carpets, live events, and soirees. You can catch films in San Jose and at the stunning ShowPlace ICON Theatre in Mountain View. The festival will also showcase the technologies that change media-making and distribution, focusing on AI. Join the "Artificial meets Human Intelligence" forums, where AI leaders will present and debate before some film screenings.
The theme for 2023 is Energized, as Cinequest is invigorated to discover the latest and greatest films, technology, and artists from around the world and to engage its radically inclusive and influential audience with great works and the artists who made them.
SPECIAL EVENTS
Since Cinequest has expanded into Mountain View, there will be not one but two opening nights:
Tuesday, August 15th, San Jose: Cinequest kicks off at the California Theatre and includes a star-studded red carpet, the screening of the drama Fresh Kills (featuring a Q&A with Jennifer Esposito), and an exciting after party. Jennifer Esposito's filmmaking debut shines a light on the never-before-seen women of the beloved mob movie genre and stars Emily Bader, Odessa A'zion, Jennifer Esposito, Domenick Lombardozzi, Annabella Sciorra, and Nicholas Cirillo.
Thursday, August 24th, Mountain View: Cinequest's second opening night occurs at the ShowPlace ICON Theatre and also includes a red carpet, a screening of the Rom-Com Sometimes I Think About Dying starring Daisy Ridley, and a swanky meetup after. This feature is a funny and romantic story about drawing one's roadmap in life and co-starring with Ridley are Dave Merheje, Parvesh Cheena, Marcia Debonis, Meg Stalter, and Brittany O'Grady.
On Saturday, August 19th, the buzzy thriller Breakwater starring Dermot Mulroney, Darren Mann, Alyssa Goss, Sonja Sohn, and Mena Suvari, makes its World Premiere at Cinequest with a screening at the California Theatre, followed by an after-party under the summer stars. A thriller in which a young ex-con risks his freedom to track down the estranged daughter of a fellow inmate and unknowingly brings a devil from her past straight to her doorstep.
On Wednesday, August 30th, Cinequest!s Closing Night Film, Story Ave, starring Luis Guzmán, screens at the ICON in Mountain View, followed by an after-party celebrating the works of this year!s visionaries and rising stars. Story Ave follows a teenage graffiti artist from the South Bronx who ran away from home and holds up an unwary Puerto Rican MTA con ductor in a robbery gone right that will change their lives forever.
WHAT'S NEW AT CINEQUEST
Expanded Venues: At this year's summertime festival, audiences can experience film screenings and events at Cinequest's traditional San Jose venues or the Show Place ICON Theatre in Mountain View. Located just five minutes from Google's campus, the ICON offers stadium-style seating, reclining lounge chairs, and dining-at-your-seat options.
"Artificial meets Human Intelligence" Forums: Located in the heart of Silicon Valley, Cinequest is the festival "where tech meets film." This year, Cinequest will produce a compelling conversation series that explores the provocative topic of what happens when AI intersects with human creativity. AI luminaries will examine how filmmakers, in particular, can prepare for the future of storytelling.
Representation in Cinema: This year Cinequest continues its legacy of showcasing the works of artists from over 50 countries and all walks of life. The majority of films have been directed/produced by women and members of the Asian, Black, LatinX, and LGBTQ+ communities.