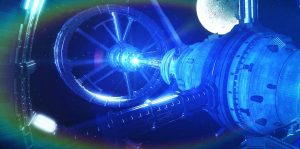 Colonists from Mars return to Earth searching for "humans of old" in Joe Bland's feature film, Colonials. While the feature releases in December on DVD, Amazon Prime, and a few more streaming networks, an accompanying set of game cards are available now for purchase.
Colonials is the story of Silas, a space colonist from Mars, who embarks on a reconnaissance mission to Earth to figure out what happened to the 'humans of old.' The Exiles (an evil and advanced Moon-based- civilization) intercept Silas's squad and destroys their ship just outside Earth's atmosphere sending Silas crashing to Earth alone. Having lost his memory upon landing, Silas must figure out who he is, and his purpose on Earth before the Exiles locate and destroy him.
Information and trailer for Joe Bland's Colonials can be found at blandproductions.com/colonials.