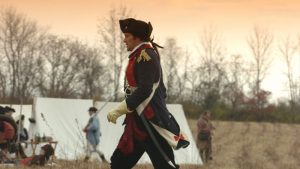 Talon Films is near completion of their assumption challenging documentary Benedict Arnold: Hero Betrayed about Benedict Arnold and the Northern Campaigns of the American Revolution. Starring Peter O'Meara, from the critically acclaimed Steven Spielberg series Band of Brothers, it tackles one of the most compelling, misunderstood and reviled characters in all of American history—a man whose very name is synonymous with treason.
This film reassesses Arnold's life and examines why he turned against the Patriot cause by asking a fundamental and profound question of the audience: Did Benedict Arnold betray his country or did his country betray him?
Shot in Super16 film with a cast of thousands of actors and extras, the film includes contributions from some of the foremost historians and authors on American history.
The film is nearly complete and the production team is hoping to raise the remaining $40,000 for post-production and delivery to distribution. They have created a GoFundMe page to help the project get over the finish line. More about the funding effort and how to donate may be found here. 
To learn more about the film and this particular take on American History click here or follow on FaceBook here.