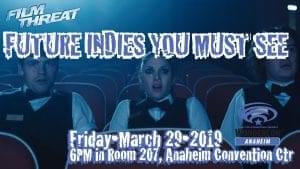 See an exclusive preview of independent genre films coming in 2020 and beyond at WonderCon in Anaheim. Film Threat publisher Chris Gore hosts a panel featuring sneak peeks of upcoming indies you won't want to miss. Through trailer debuts and exclusive clips, you'll get a glimpse into indie film projects that can only be seen in limited release and on VOD. Be among the first to get a glimpse at the best indie sci-fi, fantasy, and horror films coming soon. Be sure to attend Future Indies You Must See at WonderCon at the Anaheim Convention Center, Friday, March 29th at 6PM, Room 207. Get more info on the official WonderCon web site.
And check out this short trailer highlighting just some of what you'll see.
And for those who don't like to read lengthy paragraphs, here is all the pertinent information on a handy graphic.