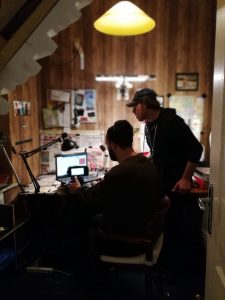 Viennese filmmaker Johannes Grenzfurthner talks about his new film Masking Threshold – horror, disgust, suspense, the fascination of details, as well as the dark side of the nerd culture. With Masking Threshold, Johannes Grenzfurthner does not simplify his audience's perception, which is a principle he already established three years ago with the crankily erratic and associatively lexical documentary Glossary of Broken Dreams. In this film, he deconstructed popular political buzzwords – to the benefit of all those who were willing to walk across discursive chasms on wavering theories. Your horror drama challenges thinking and viewing habits in different ways, even if it shares an unsettling appetite for formal experimentation with its predecessor – and a fear of looking down.
This time the audience embarks on a microscopic journey through objects on the writing and laboratory table of an unbalanced nerd. Grenzfurthner, the theory-loving provocateur roams the dark sides of biting into alternative perspectives. Socially decoupled attempts to explain the world under the pressure of suffering turn into horror in a genre film that plays with and breaks expectations, that takes alternative paths in terms of aesthetics and narrative style, and boldly combines its role models and sources of inspiration into something new.
The subtitle of your new film this time is just "A film by Johannes Grenzfurthner." Does the category of the film matter?
My film doesn't really have a subtitle, that's right, but it does have a tagline, "Try as we may to make a silence, we cannot." The quote is from John Cage from his 1961 book Silence: Lectures and Writings, which is probably unusual because I don't think many horror films quote Cage on the poster. But I approached the project already with the goal of making a genre film, and also to roughly break away from my otherwise very humorous approach and make a drama.
At the center of the plot is a nerd who we follow for a while in a diary-like, cinematic form. He has a problem, a peculiar hearing impairment, which torments him, but which is apparently not taken very seriously by the doctors who look after him. The film is more or less the documentation of his attempts to understand and heal his suffering – and that is not always easy to digest. For me, it's almost like those online videos where a car can't brake on an icy road and slowly slides down the street. Somehow, you already know that it won't end well, you just don't know how badly.
Is this horror? A thriller? A psychogram? A nerd biography? Speculative science? Did you have a specific genre in mind?
I wanted to create a horror film that combines the conventions of the genre with the aesthetic of an experimental film. That's why I use design tools from chamber play, unboxing video, scientific documentary, and do-it-yourself YouTube channel to unfold the psychological and sculptural horror.
If we observe the history of the horror genre, it has spawned a lot of innovation and the never-before-seen. I only have to remind you of the expressionistic, creepy world of a Nosferatu, the spatial trepidation of Alien, or the almost pornographic body horror of films like Saw. Again and again, aesthetic, visual spaces were opened up that were not possible or not yet established in the other areas of the film world. At the same time, hardly any other genre is so predictable on the narrative level and draws a peculiar power from the eternal return of the same – to quickly add a Nietzsche here.