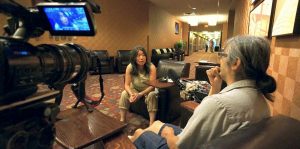 When the United States military needed help defeating Japan in WWII, they called on second-generation Japanese-Americans (the "Nisei") from the internment camps to serve in a confidential unit called the Military Intelligence Service. The MIS was composed of translators, interpreters, interrogators and even men on the frontlines. One member, Roy Matsumoto, was lauded for sabotaging the Japanese with false orders in his family's language. The group of 6,000 Japanese-Americans is credited for shortening the Pacific War by two whole years (see the bottom of the plaque below).
Despite the heavy responsibility given to these men, their families were left imprisoned. The Registry, directed by cousins Bill Kubota and Steve Ozone, examines the complex issues imbued in these all-but-forgotten Nisei recruits, setting the table for a fantastically compelling debate on race, patriotism, and recognition.
Between 2015-2016, I had the privilege of traveling the country with Mr. Kubota for a PBS documentary about ethanol. We traversed NASCAR speedways, tracked the Ted Cruz campaign, and captured hours of footage of corn. As a self-described "meat and potatoes newsman", Kubota represents an unadulterated form of journalism dedicated to the truth (or more accurately, the multiplicity of truths). He always sees both sides of the story, pressing you to consider opposing perspectives.
Kubota's sensibility produces a judicious document of a history almost lost. Through the lens of two MIS veterans working to index their aging cohort, we visit a sampling of the men who straddled war and internment. I caught up with Bill Kubota in San Francisco, where The Registry screened as part of CAAMFest 2018. Below is a transcript of our conversation, edited for readability.
What brought you to the MIS?
We found out there was a guy that kept this list, a whole list of all the people that were in this unit because nobody had ever done it before, and we went "well there's a story, let's tell some stories of people on that list, and the list will be the weave that holds the whole story together".
"…let's tell some stories of people on that list, and the list will be the weave that holds the whole story together…"
Did you already know about the MIS?
Yeah, I think if you're a really deep student of Japanese-American history you'll know about the MIS, but it's surprising how many people didn't know about the MIS who are Japanese-American because it was a secret unit.
Could you explain the conflict about patriotism and loyalty that you mentioned before?
A lot of these guys were drafted right out of internment camps and went [to fight for the US] – some of them didn't. In the last couple decades, there was a lot more talk about the guys that pushed back against that. They kind of became heroic people too, as much as the people that went to the war. So that became part of the conflict – who do we salute more?
And there are also other issues because these guys weren't going to fight the Germans and Italians, they could be fighting their own relatives. So that was part of the conundrum too. Amongst some of the community, they were looked down on.
Some people went to prison. They said "I'm not going. I'm not going to fight for America until you let my family out of the camp," which makes perfect sense, right? Back then the mainstream position among the Japanese-Americans as a general public was "you guys are giving us a black eye doing that."
"…you've gotta embrace evil to survive the war…It's not something a lot of people want to hear about our heroes."
Because they wanted to assimilate?
"Just lay low, take it. Do what they say. It will get better." And the reality is that it kind of did. So after the war, the people that fought back were the black sheep. They were not treated well. And it was only more recently – in the last twenty years – people realized these guys were getting a raw deal too.
Were the subjects receptive to the project?
I think they were all happy somebody else would listen to them about it. But it was still a struggle to get them to talk about the stuff that I think more people might care about, which is not so much the facts, more like how you felt and why you did it.
Tori "Roy" Matsumoto, there was one thing he said at least twice while we were rolling the camera, talking about "I believe in god, any god ABC and D – Allah, Buddha, Christ, and the Devil." I didn't know what that meant, and then about the eighth time looked at him and thought "wait a minute, that's the end of the show." I mean you've gotta embrace evil to survive the war. You are evil, you're killing people. You've gotta accept that. It's not something a lot of people want to hear about our heroes.
View the actual Military Intelligence Service (MIS) Registry.
The Registry (2018) Directed, Produced and shot by Bill Kubota & Steve Ozone; Edited by Bill Kubota and Ryan Betzler.