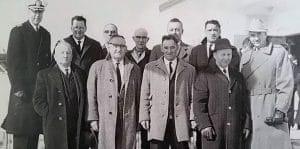 …As If They Were Angels tells a harrowing historical story that most Americans have shockingly never heard before. On February 18, 1942, the US Navy suffered one of its greatest non-combat casualties losing 203 young sailors in two shipwrecks on the icy coast of Newfoundland. Filmmaker Terry Strauss' father, Henry "Hank" Strauss, was one of the 186 survivors who lived to tell a tale that was covered up by the Navy during wartime. After watching this touching and illuminating documentary, I feel that this story of heartwarming heroism needs to be heard now more than ever before.
In my enlightening interview with Strauss, we discussed what she learned while making this film over the past 30 years. We addressed the Navy's embarrassment over the disaster and their appreciation to the rescuers. We also marvel over the way the current young generation of Newfoundlanders pays its respect to those sailors and rescuers.
Before jumping into our chat, here are a few things you should know about the extraordinary event.  The USS Pollux was carrying supplies from Maine to a US Naval base in Argentia, Newfoundland. It was accompanied by the USS Truxtun (an older WWI vessel) and the USS Wilx (a flagship with new radar navigation) for guidance protection. In the midst of a ruthless storm, they tentatively traveled through German "wolfpack" territory. As Mother Nature roared, the USS Pollux and Truxtun crashed into the rocky cliffs of Newfoundland's frosty coast. It would take a miracle to save these stranded souls.
Most of the young sailors died trying to swim ashore through crude oil and freezing temperatures. Against all odds, a couple of men succeeded as they climbed up the frozen cliffs and were fortunate enough to stumble upon two compassionate communities known as Lawn and St. Lawerence. Comprised mostly miners and fisherman, its citizens were determined to save as many lives as possible. These families took wounded Americans into their homes and cared for them until help arrived from the Navy. In 1988, the American survivors returned to Newfoundland and reunited with their rescuers. It was at this reunion where Strauss began filming her emotional and eye-opening documentary, …As If They Were Angels.
"