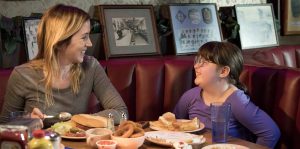 For most independent filmmakers, getting your film past the script can be a daunting task. I spoke with the writer/director/producer/star Stephanie Turner about not only getting her script across the goal line, then getting it in the right hands, as her film, Justine, makes its debut on Netflix. Justine is the story of a military widow, Lisa, who is slowly disconnecting from her family and in desperate need for a job, she works as the nanny/caregiver for a young girl, Justine, who has Spina Bifida. This is Stephanie Turner's first feature film.
---
I saw your film when it premiered at the Newport Beach Film Festival.
Stephanie Turner: Yes, I know. You wrote such a nice review for us. Thank you so much for that. I would assume the reviews come from a genuine place. I was so appreciative that you really seem to get and connect with the film, and that seemed to be reflected in the review. So thank you.
My pleasure. What is your background? This is your first feature film. Where did you come from to get to the point where it's like, I'm gonna make this film?
I started in the industry as an actor. I started acting as a teenager, and to be honest, I've always been interested in storytelling. I think, as a young girl growing up, I didn't see a lot of examples of women behind the camera or didn't hear a lot about that. Obviously, those women existed, but, it was the 90s. I grew up very far from Hollywood or entertainment or the arts. So I just thought, okay, I'm going to be an actor. And right out of high school I went to acting school, moved to LA, went to a two-year acting school, and learned about storytelling and the craft.
I just loved that. And over the course of my career as an actor, I would work. I would book some jobs. I would get close to booking bigger jobs and then not get them. There's a lot of frustration and ups and downs in that career. It was during those frustrations that I thought I'm going to try to write. I'm going to write a screenplay. And I took screenwriting classes at UCLA extension. I read tons of books and took a bunch of courses, and I wrote. I started writing a screenplay. This was years before I wronte Justine. And then after I wrote that one, I had an idea for something else and I had an idea for something else.
Writing became a part of what I was doing. I wasn't really working that much as an actor. It was mostly small parts on TV shows and not really complex female roles. I thought, let me write a story that can be made for a low budget, that has a complex female character, and that I would be interested in playing as an actor. So that was really my focus when I started writing the script. And then the story kind of grew and evolved from there.