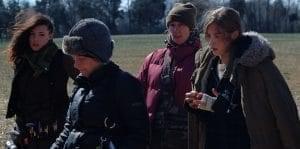 I was delighted to get the inside scoop on Jen McGowan's latest thriller, Rust Creek. Set in rural Kentucky, Sawyer has the misfortune of breaking down in the WRONG part of the backwoods on her way to an important job interview in DC. With elements of The Texas Chainsaw Massacre. Training Day and hell, I guess Breaking Bad, Rust Creek treads in familiar territory, but in a woman's shoes. Which, in 2019, is very important and a huge win.
Read on to find out more about the film and the director Jen McGowan.
How did you become attached to the project?
I met with the producer, Stu Pollard because I had been introduced to him as a potential investor in another film I was trying to get made. He didn't connect with that material, but he and I really hit it off. Unbeknownst to me, he had this project Rust Creek, and two people had recommended me to direct it.  So after that meeting, he reached out and asked if I'd liked to read it.
I did and thought I could do something fun with it, so I pitched and was hired!  I pitched in August, and we were shooting in November.
Did you have a Southern upbringing or were you familiar with the south before shooting Rust Creek?
I grew up in Northern Virginia which is an in-between world.  It's DC and international, but you go 30 minutes south or west and you're in the Blue Ridge mountains very quickly.  As a child, I spent time in West Virginia and North Carolina for visiting family and vacations. So while every area in the South is very different, there are commonalities.
"…already has nearly 2,500 members: all vetted, professional women in the entertainment industry."
Where in Kentucky did you shoot?
We shot most in Louisville and surrounding areas. We based it in Louisville and our primary location, which was a massive private property – like the size of a national park – was about 30 minutes outside of Louisville.  We also shot a bit in Danville which is about an hour and a half from Louisville.
How did y'all find that trailer?
Well!  That was a combination of our transpo coordinator Scott Shuffit and our production designer Candi Guterres.  I had a very specific look in mind, and we also needed one big enough that we could work in without stepping all over one another.  The trailer was found a couple of hours away at a recycler. And the entire inside was completely covered in bird s**t. Like deep. But it was the one.  So we did a hazmat clean off the thing and transported it to our location, which was wonderful because I got to place it exactly where I wanted it for angles and sun.
The cast was great but particularly Hermione Corfield. How did you come to the decision to cast her?
She's amazing. I love her to pieces. We did traditional casting for all the roles. Jeremy Gordon & Caroline Liem were the casting directors, and they brought her in.  I narrowed my selects down to three and met with those three women over coffee. My question for Hermione was she'd only ever done small parts in really massive films before, was she prepared for the experience of an indie film.  And one that was being made in such a harsh environment. She assured me she was. I trusted her, and she delivered. Couldn't ask for a better partner in crime!
Was there a conscious effort to make a commentary about corruption within the police department or was It just incidental to the story?
That was of course in the plot of the script.  But thematically it's part of what drew me in. First and foremost this is a fun movie.  But it's not without meaning. I wanted to comment on the abuse of power, patriarchy and greed, which I think is very relevant right now.  If you watch this movie looking for that, you'll see it. And if you don't, you'll just see a fun thriller.
"…only ever done small parts in really massive films [but] was she prepared for the experience of an indie film."
How would you say studying acting informs the way you direct a film?
Profoundly.  I didn't know it but at the time I was studying acting I was actually training to be a director.  At least the trope of director that I am. I understand how actors feel and what they need to do a good job. I know that they're all different and that working with them for specifically what they each need is key.  I am very tuned and attentive to them. But I also don't have a lot of patience for silliness. When I'm looking to work with actors, I see them as my creative partners and everything that comes with that.
Tell us a little bit about Filmpowered.com
Film Powered (www.filmpowered.com) is a service that binds creative communities of women in a larger calling: disprove the idea that qualified female candidates are hard to find in entertainment by expanding the pool of opportunity. The service, which will be relaunched at Sundance, already has nearly 2,500 members: all vetted, professional women in the entertainment industry.  We're on track to double that number in January and double that again by the end of 2019.
Film Powered is international.  Free to members and includes women from all aspects of the industry from script to criticism.
I fundamentally reject the idea that excellent women do not exist.  My intention is to collect them all in one place so we will never again hear that someone "can't find women."
Lastly, what advice would you give to young women (or anyone who isn't a cis man) who want to become filmmakers?
Find your people.  Join whatever you're eligible for and connect with people.  No one makes a movie on their own, and that is a good thing. It means that whatever level you're at, someone needs you.  Also, be patient. For most people this takes time. In that time you need to take care of yourself physically, emotionally, financially for a while. And we all need you to sustain & succeed so take care of yourself.