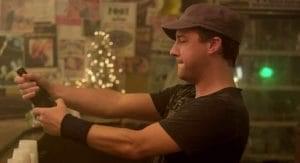 In the midst of the 29th Annual New Orleans Film Festival, a local indie filmmaker is taking a traditional DIY/non-traditional route to showing his film to audiences. Laundry Day (Film Threat Review), the crowdfunded comedy-drama about French Quarter lives converging on one bar, is making the rounds across various city dives and parlors. This approach gives a level of freedom to filmmaker Randy Mack (Burning Annie) that allows for presentations outside of organizational status quo. Whatever he may lose in "official" recognition, he gains in grand word of mouth and buzz.
I interviewed Randy a few times in the past, and was fortunate enough to do so again, this time about the screening tour, being mostly self-made, and the state of regional films and festivals:
How do you feel about the state of the film festival process, from applications and submissions to potential presentation?
The role of the film festival has evolved a lot since my first feature Burning Annie premiered in 2003. The number of independent feature films produced in America every year has gone up a literal order of magnitude, and regional festivals have evolved into their own defacto distribution network of a sort: a series of one-night screenings across the country that is a better quality theatrical run than most films "with distribution" can see. The problem for the filmmaker is that the glut of films has made even mediocre regional fests much harder to get into than in the past, plus fests themselves have proliferated, which adds up to thousands of dollars in submission fees that have a very small chance of paying off. What hasn't changed is that fest programmers tend to be true believers of cinema willing to waive fees if approached right. But it's a big low-odds gamble either way. For Laundry Day I chose to skip the festival circuit for the first time, with one big exception: John Schneider invited us to play his experimental CineFlix Festival which took the film to theaters all over the Gulf Coast; the film won the Robert Evans Award, and I think in hindsight that experience probably planted the seed that resulted in the "Worldwide Bar Tour of New Orleans." #WWBTNOLA… Taking it to the people.
"…the glut of films has made even mediocre regional fests much harder to get into…"
Obviously, with Laundry Day set in a series of local watering holes, a bar-to-bar screening tour is a great promotional idea. What efforts did you make in getting the film shown theatrically (locally and beyond) and were you forced into an almost completely DIY distribution model?
Laundry Day had a great sales rep in Circus Road Films, and they got us acquired by Summer Hill Entertainment who released the film on VOD platforms in June. The bar tour idea had been percolating for a while but without easy availability online, the tour made no sense. Here's why: we indie filmmakers live in a wild weird world now— "distribution" as in being "acquired" is no longer the big hurdle; being acquired with an advance (i.e. payment) and a "P&A commitment" (i.e. marketing and promotion) IS though. There's no P in P&A anymore: "Prints" means celluloid, and everything's digital in distribution (outside anomalies like 70mm festivals and Tarantino's Hateful8 Roadshow). It's all about A: traditionally "Advertising" but in 2018 "Attention." Getting people's attention has never been more difficult.
So the bar tour is an auspice to generate some noise, bring the film to the people most likely to love it, and even if a person can't make any given public screening, they can always catch it at their leisure on Amazon. In other words, the Bar Tour is not so much the P— a theatrical run— as the A— a fun way to build buzz and get people watching.
The movie is available for streaming on platforms like Amazon and iTunes. Does video on demand take away or add to the stress of finding an audience?
It's a wonderful safety net. As a filmmaker I want people to experience the ride I've built, I'm not precious about how/where/when/why.
Laundry Day is exceptional for its depiction of French Quarter denizen day-to-day life. It frustrates me in just how difficult it can be to get word of mouth going on something as good as this. If given carte blanch, what would be the most ideal screening setting and circumstance? How would it play out in your mind?
Laundry Day is an arthouse film intended for a discerning audience with an interest in New Orleans, and I don't harbor any illusions about its national commerciality. That said, a number of prominent filmmakers, celebrities, and artists have planted a flag in this city and used it to burnish their reputation— off the top of my head: David Simon, Brad Pitt, Sandra Bullock, Trent Reznor, Solange Knowles, Jonah Hill, Seth Rogen, Nicolas Cage, David Byrne, etc— and I would have loved to have a big screening with all of them so they could have used their bully pulpits to spread the word. Dare to dream, right. But I still hope the film finds its way to more "influencers" and thus to more people, filmmakers, etc. Because it seems that the more you "get" New Orleans the more you like the film.
"…biggest worry was the poor souls minding their own business at the bar when the movie begins…"
This and King of Herrings are two of my favorite recently made New Orleans based flicks, similar for character and use of time and place. Is NOLA the right city at the right time for a new Hollywood? What can be done to foster a better film culture and community in the area?
For New Orleans to be a "new Hollywood" it will have to foster an above-the-line film community— producers, screenwriters, directors, and financiers— as Austin did in the 1980s. The Austin Film Society was founded by Richard Linkletter and Louis Black to foster local filmmaking; all the charter members were filmmakers. It was totally DIY but a lot more than just film appreciation. Texas had just created a Film Commission; money from them allowed locals to experiment, find their voice, build their creative teams, and five years later they had their zeitgeist-defining breakthrough, Slacker. Largely it happened organically, which is why that great creative energy persists to this day, but modest financing from the state helped it along. Hopefully, the new 2% allocation and Alliance for Louisiana Filmmakers will be our version of that success story. I just hope we have enough organic creative collaboration in our filmmaking community to create real growth and make it more than another boondoggle.
Showing this movie in bars must be more 4D than, well, 4D, what with smoke in the air and the potential for getting tipsy or worse. What challenges have you encountered in playing for bar patrons and residents?
Surprisingly few. It's been a great experience across the board. The biggest worry was the poor souls minding their own business at the bar when the movie begins: would they try to talk over it? Leave? Complain? So far without exception, 99% of people have stayed through the entire film. Some of the biggest raves have come from people who had no intention of seeing a movie that night.
Will you be taking Laundry Day to any other cities, or is this it for now?
This is it. The last hurrah. I need to spend more time writing the next film. It's a bywater horror story… but I repeat myself.
Knowing now what you've learned up to this point in your career, how might you do movie showings for future releases?
Although I did the WWBTNOLA entirely by myself, next time I'm working with a team. And I'm not going to let four and a half years lapse between production and release. Otherwise, this bar tour has been a joy and the people of New Orleans have been the best imaginable audience.
Laundry Day will continue its New Orleans bar tour well into November. Visit facebook.com/laundrydayfilm for more information. The film is currently available for rent and purchase on Amazon, iTunes, and other VOD platforms.