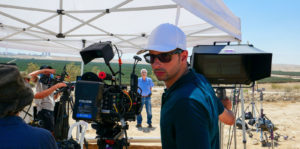 "They were visiting the University to which they were leaving half a billion dollars that no one knew they had," says Matthew. "They were Holocaust escapees and lived the American dream. They had lived modestly, and now they were doing something for the next generation. The image of the two of them standing in the Negev Desert was so pregnant with multiple layers of meaning that I thought they needed a film. So that was the directive: discover their story and make a film inspired by it."
Filming the landscape of Israel was very appealing to Matthew because it is an ancient landscape that has profoundly symbolic and spiritual meanings to people. "Water is a primordial symbol and essential to life, but it is also now scarce in many parts of the world. So I felt it was an opportunity to create a deeply visual film. And then the story itself was irresistible because it had so many twists and turns," says Matthew.
The timing with the announcement of Patagonia's founder Yvon Chouinard gifting his company to save the environment is serendipitous with Who Are the Marcuses?
"We joked that Yvon Chouinard might have seen an advance screening of our film because he is living the values of the Marcuses–Howard and Lottie, and their daughter, Ellen, who encouraged her parents to give away their fortune," Mishory says.
The project also led to a memorable encounter with another contemporary philanthropist—Warren Buffett. "Mr. Buffett is completely authentic; there is no artifice. He is as genial and inspiring as he seems. And the world is coming around to his message." In addition, Buffet is a signatory to the Giving Pledge, in which he pledges to give the bulk of his wealth to charity.
Matthew's next project, Fioretta, now in post-production, reunited him with the production team Bradford L. Schlei, Rob Levine, and Alvaro Fernandez that delivered Marcuses. A meditative and intensely visual exploration shot across Central and Southern Europe, the film offers a universal message "about family and reclaiming 500 years of history."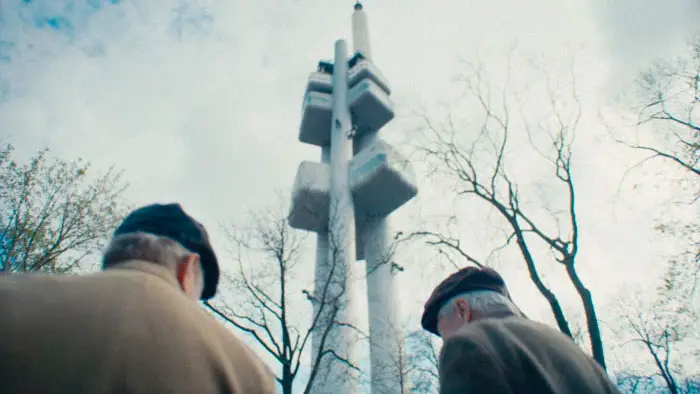 "Filming the landscape of Israel was very appealing…an ancient landscape that has profoundly symbolic and spiritual meaning to people."
A massive logistical undertaking at a time of restricted foreign travel, Fioretta follows genealogist Randol Schoenberg's obsessive quest to trace his family history back to the 16th century Venetian Ghetto and to reunite the fractured surviving branches in the process. Grandson of the composer Arnold Randol (Randy), Schoenberg is best known for successfully suing the Austrian government in 2005 on behalf of Holocaust survivor Maria Altmann to recover the five Gustav Klimt paintings stolen from her family by the Nazis. That case inspired the hit film Woman in Gold, starring Ryan Reynolds (as Randol Schoenberg) and Helen Mirren. Fioretta casts Schoenberg, the great composer's grandson, in a fascinating new light.
Schoenberg's 18-year-old son, Joey, accompanies his father from Vienna to Prague, Florence, Venice, and beyond. "At its core, the film is a father-son journey through Europe and the centuries, searching for identity and some transcendence," says Matthew. Randy's cousin, the Venetian painter Serena Nono, joins Randy and Joey on their trek. Randy's ancestral discoveries inspire Serena to create a series of works, "portraits of ghosts," with her Romanian artist husband, Nicola Golea.
Along the way, the Schoenbergs encounter an eclectic cast of characters engaged in the painstaking and sometimes melancholy task of preserving history, including a haberdasher writing a genealogical encyclopedia of lost Jewish Vienna, a corduroyed scientist excavating buried tombstones, a Viennese woman micro-memorializing the Jews who once lived on her street, a theater actor photographing Jewish cemeteries in the Bohemian countryside, and a child hidden from the Holocaust who now, at age 91, cares for the ancient cemetery on the Lido. The family history they piece together, through historical records and lore, intersects emperors, kings, and popes – and a false messiah. "Like Randy, I love cemeteries," Mishory says. "And we spent a lot of time photographing them."
Fioretta was a collaboration with the celebrated Polish cinematographer Maciej Twardowski (All These Sleepless Nights), and Mishory used a multi-format approach (Ektachrome super16 film, digital, super8, and VHS) and a roving camera to give context to a long walk through history as well as recreate the Prague of the early 90s Randy first visited.
"America's obsession with family history is an obsession with storytelling," says Matthew. "Randy has made it his life's work to tell this 500-year story about his family, which is the story of the Jews in Europe. This film explores themes that have always fascinated me—hidden histories, identity, and creative inspiration."
Who Are the Marcuses? will make its world premiere at Newport Beach Film Festival in October 2022. The irony of the location isn't lost on Matthew, a surfer himself, there's footage of kids surfing in Haifa in the film who understand the value of being eco-conscious to enjoy the water.
"This is a great time for documentary films," Matthew concludes. "Never before have there been so many ways to access documentaries, and for filmmakers, that spells opportunity."