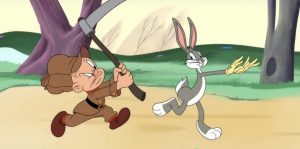 Ehhh…What's up, Doc?
Having grown up on Warner Bros.' Looney Tunes Cartoons, I was understandably excited about the upcoming reboot, premiering on May 27th on HBO Max with 80 new episodes, including holiday specials. The show retains the spirit of the original toons with its vibrant animation, succinctness, slapstick gags, and general silliness. I sat down to discuss Looney Tunes 2.0 with the appropriately animated Bob Bergen (who voices Porky Pig) and Eric Bauza (the man behind Bugs Bunny, Daffy Duck, Tweety, Elmer Fudd, Sylvester, Yosemite Sam, Foghorn Leghorn, Tasmanian Devil, Marvin the Martian, Wile E. Coyote and many more).
I – along with millions of people – grew up on old Looney Tunes cartoons, so I'm understandably excited about this reboot. Can you tell us a little bit about how you got involved and the legendary character(s) that you're voicing?
Bob Bergen: I loved Looney Tunes since I was five years old. Growing up in the Midwest, there really wasn't an opportunity to voice anything, let alone a classic character like this. I was obnoxious…I remember when I was in kindergarten, a teacher asked if I had two apples, and she gave me two more apples, how many apples would I have, and I was like [in Porky Pig's voice], "Eh-the-the-that would be four." So yeah, at the time, I was the obnoxious kid. Then we moved to L.A. when I was fourteen, and my dad took a job here. I just thought, "I'm going to find out how to do this." So I called Mel Blanc – I found him in the phone book and crashed a recording session – and realized I have to study how to do this. I also needed my voice to change, that was kind of important. A week out of high school, I got my first agent, and I was already a working actor. Warner Brothers needed those characters…So it was a combination of a lot of luck, right place, right time – but I was pretty prepared.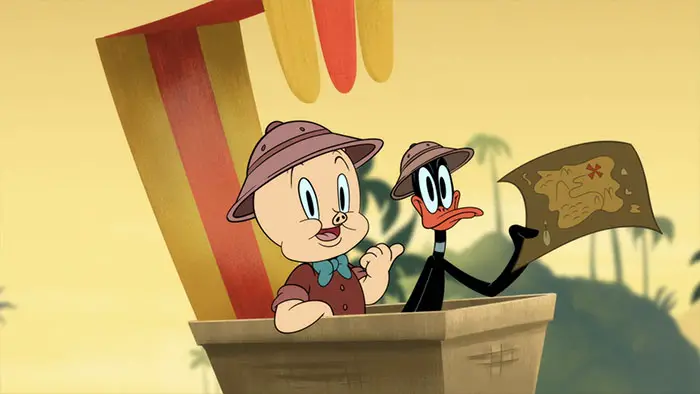 "…it's all about that audition. I pretty much auditioned all of the characters."
Eric Bauza: Like any version of any show – any reboot or any original show – we're all alerted by way of audition. We'll get an email from the agency or from the studios. Growing up as a kid, I never thought I would be in the position to be reading for a character like Bugs Bunny. I always thought he was a real person. You find out in the original Looney Tunes ever that all the characters are voiced by this main one guy named Mel Blanc. As a teenager, I would always look up interviews with Mel Blanc, and I would study them. A groundbreaking film like Who Framed Roger Rabbit? made me a fan for life, being able to see these characters interact with real people, which leads to the early-1990s, and those Michael Jordan shoe commercials with Bugs Bunny and Marvin the Martian.
These are all the seeds that were planted in my youth [in Bugs Bunny voice], "Erm, to get me where I am today, doc." I always thought I could do Bugs Bunny, but no one ever had the heart to tell me it sounded like crap. [In Bugs Bunny's voice], "Suddenly, I went through a thing called puberty, and my voice changed, and now I sound like a rabbit! Oh, okay, everyone wants to talk about the rabbit, but…", [switches voice to Daffy Duck], "…no one ever wanths to talk about the duck, you know. I'm the real thtar of the show!" [laughs] You know, the funny thing is, the entire time I'm thinking about Bugs, I never thought, in a million years, that I would get close to Daffy. That's the other thing. Some argue that my Daffy is better than Bugs, and I might agree. Bugs is a very intricate, hard voice to do. But going back to your original question, it's all about that audition. I pretty much auditioned all of the characters. I mean, not all of them, but definitely the ones that I really care about. Marvin the Martian I've been doing the longest, out of all of those characters. He was always my favorite character of the Looney Tunes, aside from Bugs. I've actually been voicing that character between eight to ten years now. On the 27th will be my maiden voyage with Tweety [switches to Tweety], "Oooh, look out for that Tweety Bird! He's almost in the same range as Bugs, see. So…" [switches to Bugs] "…Bugs is here…" [switches back to Tweety] "…and Tweety is just over here!" It's like if Bugs and Elmer Fudd had a baby…You know, give the fans on Tumblr a couple of weeks, and they will draw exactly what I'm talking about.