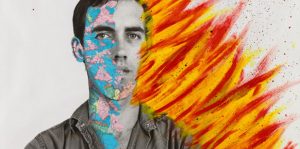 I was more than delighted to talk to Chris McKim again for Film Threat. His new documentary is entitled, Wojnarowicz. More to my liking is the original title, Wojnarowicz: F**k You F**got F***ker, which is not just an alliterative insult but also a title of one of the late artist's paintings. David Wojnarowicz was a multimedia artist, creating paintings, writings, videos, and music with his band 3 Teens Kill 4. I have been a fan of Wojnarowicz ever since I saw him in Richard Kern's (my filmmaker hero) You Killed Me First. I was fascinated by his striking appearance and then learned all about his artwork, awesome band, and a life that was not short of hardship.
Chris McKim explores all these aspects of Wojnarowicz's life in a fun, informative, and heartrending way. For those of you who don't know, David Wojnarowicz died in 1992 due to AIDS. He was a huge AIDS and gay rights activist until his death. He was an important figure in the downtown NYC art world, where he's still considered royalty. I am just so excited that people who didn't know about him can now learn a treasure trove of information from Chris McKim's film. McKim is a great artist in his own right, having made compelling documentaries, including Out of Iraq and Freedia Got a Gun.
I'm glad it was he who made the movie about such a seminal figure in my life because he did it in the best possible way, and he's someone I would trust to do so. Here's our conversation about Wojnarowicz. I implore everyone to check it out, regardless of your taste in music and art, because David Wojnarowicz's political activism is still relevant today. I will go ahead and shut up about the greatness of the late artist so you can read this interview, and after that, check out Wojnarowicz ASAP!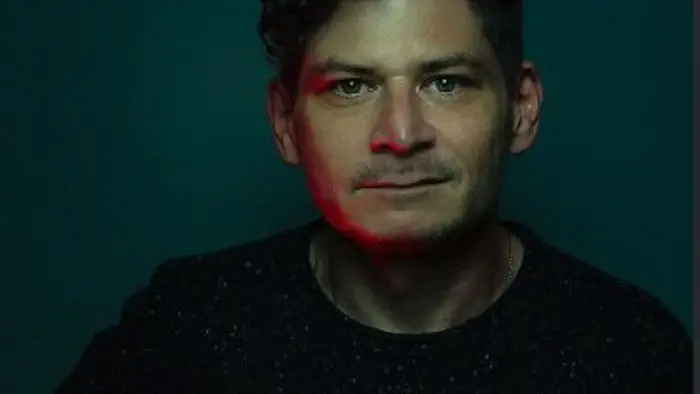 "…a multimedia artist, creating paintings, writings, videos, and music with his band 3 Teens Kill 4."
What was your first exposure to David Wojnarowicz's work?
Chris McKim: I probably first became aware of him in college, which would've been around the time he passed away. I'll be honest and say that it wasn't until working on this project—it was a deep dive, but that's where I came to know so much about him. It was really with the audio, first and foremost, the tape journals and stuff that really cemented the deal.
The way it all came about was in July of 2017. I was in the same sort of existential dread that everyone was following that election. I was trying to figure out what I was going to do next. I really wanted to do an archival project because I had done Out of Iraq, which I co-directed with Eva Orner, and that was primarily archive and the first time I had used it. I just really enjoyed the process and thought it was a great creative tool, so I was hoping to find some '70s-'80s based story that could kind of speak to today, or at least make me feel like I wasn't watching the world burn around me without doing anything. I got re-acquainted with Wojnarowicz. At the time, there had never been a documentary about him. I reached out to the estate. The art gallery PPOW sort of helped it all come together.
There's a wealth of audio, especially with the journals, and I'm wondering how much audio you had to scour through in making the movie?
There were about 200 audio cassettes that were part of his archive in the library at NYU. That was a mix of the tape-journals, mix-tapes, answering machine tapes. There may have been a dozen answering machine tapes. Conversations with friends, a lot of tapes from him just driving on road trips and stuff. As the project got started, World of Wonder was involved. We were working on a sizzle, so I reached out to the archive, and I got access. At that point, the estate had given permission to use the audio files. A lot of it had already been digitized at the library, so, in addition to just sitting at an Avid as you do when you're working on these things and pulling soundbites, I loaded up my iPhone with all these files. Each file was maybe up to 45 minutes. So each file represented a side of an audio cassette, and I'd just put it on shuffle.
Some of the tapes were labeled, some had whatever Wojnarowicz had scrawled on them, like March '81, or it's just like some obscure thing where someone may have already cataloged it at the archive. For the most part, there was no rhyme or reason to start because it was an incomplete set. It turns out I wouldn't have known what the beginning was either because, in this process, we found things I don't believe folks realized were in there, like the audiotape of him going across the country at 21. There are things that I feel like I wouldn't have referenced elsewhere. So that tape was really the earliest of his journals. It's a mix of natural sounds of him riding the rails with his friend, but also it felt like the beginning of his tape journals where he started collecting his thoughts and talking to himself on these tapes and observing what was around him. That was a really early thing, and I had no idea it was in there 'til very late in the process.
It was great. I just listened, and the texture of these tapes is so rich as well. Whether he's sitting in whatever apartment he's living in, you hear the sounds of police cars and screeching cars in the back. Because he was a multimedia artist, and his work with the band as well, 3 Teens Kill 4, he was very into audio. So there's a lot of natural street sound. Just like him standing in Times Square recording audio. Or news clips or whatever. It just all became part of the vocabulary and the language we got to pick from, and in that regard, it was as if we had done interviews and were pulling sounds to help tell the story.