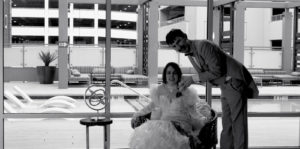 Bryan Connolly's movie about movies, Make Popular Movies, is the story of a self-important director, played by John Gholson, making the movie of his career, and an actress (Franny Harold) who finally catches that first big break to stardom. Make Popular Movies is a satire about the insane system that is Hollywood, and director Connolly captures it in its full improvised glory. We spoke to Connolly and lead actor John Gholson about the process of making a "no-budget film  about a big-budget movie."
---
Tell me about the basic plot of your movie.
Bryan Connolly (writer/director): It's a story about the first movie to win the Oscar for MOST POPULAR FILM. We start with the casting, go through the production and then end with all the horrible living punishments one has accepted into their life for making such a product. It's a comedy!
How did Make Popular Movies come about? How did the basic idea come about, and how did you pull your cast together?
BC: I was driving on the freeway and thought of a plot for a science fiction film where there existed a future in which all movies were made by computers. The computers break, and people have to remember how to make a film again without the aid of digital technology. Not sure why, but the movie they had to make was always going to be Robin Hood. Simultaneously I had an idea about a Michael Bay-type, and we followed him over the course of a production of a big, loud movie. It eventually made sense to combine the two ideas. Also, the challenge of making a no-budget film about big-budget movies seemed like something that needed to be cracked.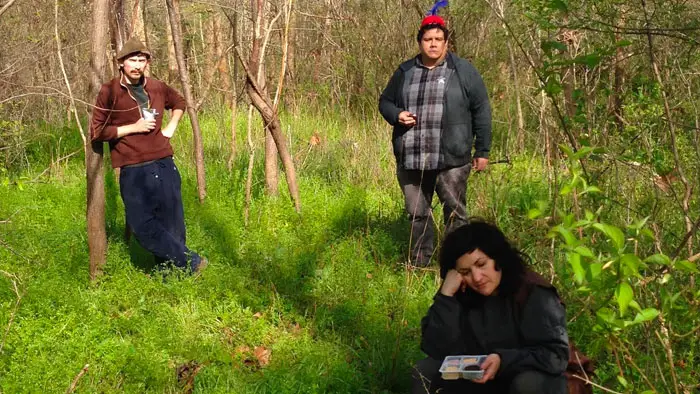 "…a story about the first movie to win the Oscar for MOST POPULAR FILM."
Producer Mohit Jaswal (Night On Sixth) came on board and basically made this movie happen. It was just so amazing. He, without blinking, hopped in and pulled together everything, and I mean everything, to make this movie a reality. Austin, Texas, has been known for its comedy scene for some time now. Great, great funny people all over the damn place. He knew a lot of them and took me to many stand-up and improv shows around town. For anyone that really stood out, I would say, "Oh, well, we gotta get them in this movie." We pulled from wonderful places like The Hideout Theatre and Fallout Theater. In two weeks, we had the film cast. I met every actor over coffee and asked them if they'd please be funny in my film for next to no money. They ALL said yes. Amazing. Every one of them is worth a million bucks, and some day I hope to give them more for the next one around.
What is your relationship to the film industry, and how did the insights about this insane world come to mind?
I've tried to sell a script for years. It's hard. There's a pile of them now that can fill many shelves. Back in 2016, I was lucky to be able to help write a short film with filmmaker Todd Rohal (The Guatemalan Handshake) and writer Zack Carlson (Outsider) called The Suplex Duplex Complex. Todd directed it for Adult Swim, and it ended up winning an award at SXSW. That led to me getting a manager, which led to me getting a bunch of meetings in Hollywood. I live in Texas, and having meetings in Hollywood just seemed so crazy. And they were. I'd fly out and be on the Warner Brothers lot and think, "Wow, this is just some wild dream." I got to meet with so many interesting people and a few nightmare-type folks. One guy looked at his phone the whole time during a pitch. They would often mention odd, odd ideas like "Home Alone with a dog" or "What if this Christmas song was a movie?" Weird stuff. Basically, everything in Make Popular Movies is based on a real moment I experienced.
John Gholson (actor, Lou Bagetti): For years, as a movie fan – not even as an actor, just as a fan of how the sausage was made – I followed the industry trades, read movie magazines, and kind of came in as a film critic right at the tail end of movie blogging's "Golden Age" in the early 2000s. That probably equipped me with some kind of understanding of a director like Lou and definitely gave me the vocabulary to improvise his dialogue.
"…the process was more akin to writing dialogue on the fly than just making something up."
How much of the dialogue was improvised versus scripted? If improvised, what were you looking for in casting improv actors?
BC: The dialogue was all improvised. All of it. I was looking for funny people first when casting, but I feel you could also tell, even in a stand-up set, whether somebody is a good actor or not. They all were just the best. John Gholson is an incredible actor and improviser. His Oscar acceptance speech in the film is just mind-blowing. When we were filming it, I couldn't stop laughing, but it also is intensely emotional. Franny Harold is just some sort of genius. The stuff she would come up with would be really subtle and hilarious, like in her audition scene in the film. A lot of people mistakenly think that all improv comedy is just people loudly riffing some bullshit, and that's just not true. At least it's not when you work with true blue professionals like I was lucky to.
JG: I'm not fully comfortable with pure improv. Maybe someday I will be, but I liked the structure Bryan created. He had a full outline of what was needed, and, for me, the process was more akin to writing dialogue on the fly than just making something up. That sounds like splitting hairs, but it was much easier for me to be told, "this is who you are; this is what you're doing," and execute that than the kind of loose, free-form improv that my castmates are so much better at than I am.
What were some of the challenges you faced in production and in post-production?
BC: You know, it was all surprisingly very easy. I'm a level-headed, calm fellow, so nothing on the set seemed too hard. The hardest thing really was that we wrapped the week of COVID bursting into the world in March 2020. There was still one big scene left to do that we needed to wait on the location for anyways. As months and months went on, we all realized that the world was gonna stay closed for a while and that this scene wasn't going to happen. Mohit and I fixed it all in editing. Basically, we had to rewrite the film via cuts by taking a lot out and rearranging everything. Forty minutes of good stuff hit the floor! That's a lot, but the movie turned out even better than I could imagine.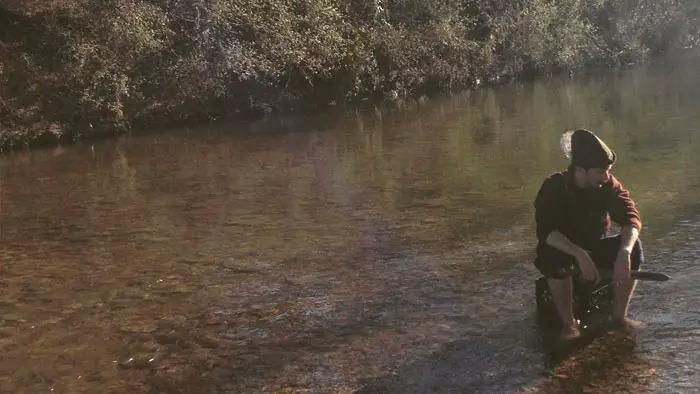 "Just make a movie. Just do it. It's so easy now."
What was your favorite moment from making the film?
BC: Hands down, it has gotta be the pizza scene. I knew what I wanted: A long take of a man eating an entire pizza. We knew that it could only be filmed once, and that's it. The actors all were very aware that nothing could be f****d up, but we didn't rehearse it because I wanted to have it all be a surprise as to how it turned out. Maybe John wouldn't be able to do it. Maybe it'll be slow or fast. I don't know. It was exciting to just see what would happen. We nailed it in one take. I didn't ruin it by laughing. No one did. Director of Photography Christopher Schneider just does wonders with the camera in the moment. We wanted the camera to not just be a long static shot, so he's moving it all over the place but capturing all the right moments. I truly believe he is the best guy in the whole wide world for filming comedy. He really gets it, unlike any else. I hope to work with him forever. The pizza scene is the one that everyone wants to talk to me about after they see it. Some nice lady on the internet said it was her favorite shot of any movie in the past year. That's so cool.
JG: I'm glad we got it. There's no way I could've done it again. The first day of shooting was Lou's last scene, at his home after the awards, which was kind of make-or-break for me, because there's pathos there for Lou, but I know it's supposed to be a comedy. I also have to work chronologically backward from there, so there's pressure on me to keep the performance consistent across our schedule. But I felt good about the first day, and that really did influence the rest. I knew almost everyone from the cast from other projects – a lot of my scenes are with Katie Graham, who directed me in Zero Charisma – and anytime Lou could share a back-and-forth conversation with someone was a good time on set for me.
What advice would you give to a fellow filmmaker based on your experience with Make Popular Movies?
BC: Just make a movie. Just do it. It's so easy now. The number one key is that you can't wait for anybody to come along and make it for you. Don't just write a script and sit around thinking someone is going to come along and wave a magic wand to get it made. Shoot on your phone. No lights. Mic in camera. Who cares. Make a thing. If your ideas are great, the movie will be great for somebody.
JG: Comedy theaters are a great place to find actors because we're hungry to create memorable experiences, and we work cheap.
How can our readers see Make Popular Movies?
BC: I'm just having it play around the country at cool little Indie theaters. It shows in Austin, Texas, at the AFS Cinema on April 2nd at 1 pm. It'll be in Seattle, WA, at The Beacon Cinema on May 27th at 7 PM. No streaming yet. It, much like the films of Michael Bay, is meant to be seen in the theater!