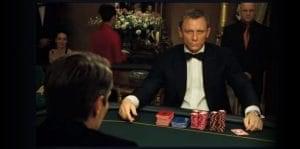 The widespread disappointment over the fact that the most recent James Bond film No Time to Die has been delayed due to the corona virus pandemic is a testament to the enduring popularity of this character. James Bond originated back in 1953 with Ian Fleming's novel Casino Royale, and since then he has never truly been away. So, while we await the eventual release of 007's newest mission, it is a good time to ask a simple question: what has made James Bond's Casino Royale so popular until today?
If we go back and re-read the original Casino Royale novel, it is remarkable how much Bond's adventures have changed since 1953. The novel's action is consigned largely to a single casino, in sharp contrast to the globe-trotting adventures seen in later exploits. Although it has a central villain in the Russian agent Le Chiffre, he is not an over-the-top megalomaniac on the scale of the opponents Bond went up against in following adventures.
And while we are all used to a James Bond story climaxing in an all-out battle involving some combination of gadgets, chases, deathtraps and doomsday weapons, the high point of Casino Royale's tension is a game of cards. Yet it all works: Casino Royale remains a thrilling novel, if not quite on the same level as its many sequels and imitations. Readers of the time lapped it up: after all, back in 1953 the setting of a casino was itself exotic for most of the British public, as this was a time long before people could hop onto online casinos with no deposit bonus and other conveniences available in 2021 (source: https://casino-bonus.com/).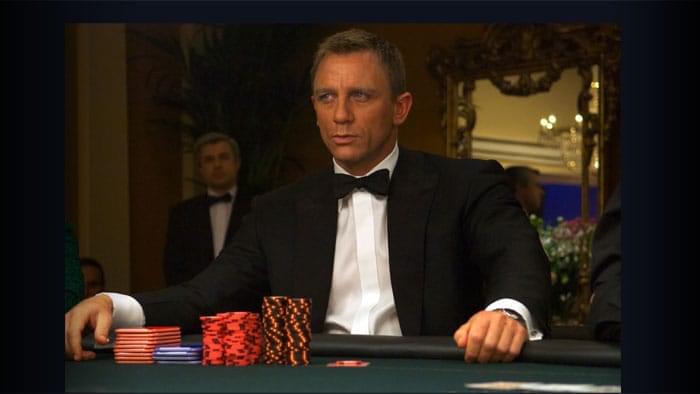 It was just the right time for readers in 1953, in the early period of the Cold War, to lose themselves in an adventure where the complex political situation could be boiled down to a game of cards between a hero and a villain. Fleming's real skill was that he could tell a story that was on the outside simple, straightforward and accessible, and yet contained hidden depths in terms of story structure and pacing. He knew how to set up a gripping scene, how to create tension, and how to ensure that the reader was engaged throughout. Nobody who has read Casino Royale could possibly forget the turbulent relationship between agent 007 and Vesper Lind, his companion who is ultimately revealed to have been a double agent all along.
Despite its position as the first novel in the series and the world's introduction to the adventures of 007, Casino Royale has an unusual history when it comes to film versions of the Bond novels. When the film series starring Sean Connery began, Casino Royale was skipped due to rights issues. The novel had been adapted for US television in 1954, but this took a number of liberties, amongst them turning the main character into an American agent named Jimmy Bond: Stateside audiences, the producers clearly assumed, would be unfamiliar with the source story and needed it reworked to suit their tastes.
"Despite its position as the first novel in the series and the world's introduction to the adventures of 007, Casino Royale has an unusual history when it comes to film versions of the Bond novels…"
In 1967 a parody version was made, featuring an all-star cast including Peter Sellers, Orson Welles and Woody Allen, but it is largely considered a missed opportunity by those who remember it. There have been many parodies of James Bond, of course, and a number of them were popular with audiences, but the 1967 Casino Royale was amongst them.
It was not until 2006 that a proper big-screen, big-budget film version of Casino Royale was released into cinemas. This marked the first appearance of Daniel Craig in the role of Bond, and was a big hit with audiences — proving that, even more than fifty years later, Ian Fleming's novel still had appeal. Although the original novel was set against a backdrop of the Cold War, the film updated its setting to the twenty-first century, and succeeded in tapping into a whole new era of political anxieties while sacrificing none of the carefully-constructed thrill of Fleming's original story.
The film version of Casino Royale kicked off the entire series of Daniel Craig Bond films, which includes the unfortunately delayed No Time to Die. Viewers all around the world are disappointed by the fact that this long-awaited entry in the James Bond saga will not be seen until sometime in the future. But while people wait for this film to be released, they can try their luck at a real casino thanks to the wonders of the Internet.
Whether you want to discover the latest casinos available to British players or compare new casinos 2021 in South Africa, there is a wealth of opportunity to be found online for anybody who hopes to win real money. And unlike James Bond in Casino Royale, you will not have to worry about the schemes of a villainous mastermind as you play!