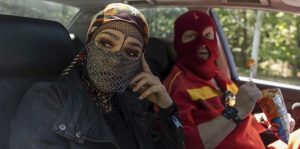 The themes of racism and prejudice are prevalent throughout the masterful Watchmen. I'll admit, when I first started to watch the series, I wasn't sure how to feel about it. In a bold move, Lindelof deviates from the beloved source material (which, in my humble opinion, Zach Snyder did an admirable job tackling in his 2009 feature film). The show is set in the present, three decades or so after the mad genius Adrian Veidt (played by a perfectly-cast Jeremy Irons) unleashed a giant squid on Manhattan, consequently shifting the world's attention from impending nuclear war. Sounds insane? Well, the book is, and within its context, the ending makes perfect sense. So my hesitation – when I gradually realized the show was going to deal with a murder case and potentially incorporate a slew of Important Motifs – is understandable.
"The themes of racism and prejudice are prevalent throughout the masterful Watchmen."
Boy, did Lindelof (along with his talented co-writers and directors) prove me wrong. Unveiling like a neo-noir-ish murder mystery – a genre Moore would appreciate – Watchmen follows Angela Abar's (a stunning Regina King) quest to find the murderer of her friend, police chief Judd Crawford (Don Johnson), but also to discover her identity. The show is set against the tumultuous sociopolitical, alternate-but-equally-brutal U.S. reality, one in which Robert Redford is president, police officers must wear masks to conceal their identity, and a white supremacist group called The Seventh Cavalry that's inspired by the "teachings" of Rorschach, targets cops. It's a lovely treatise on how our past defines us.
Speaking of which, Looking Glass (Tim Blake Nelson) – who resembles Rorschach with his reflective mask and demeanor – represents perhaps the most conflicted character of the show, torn between a deeply-embedded past and a newfound truth that changes his perspective of the world entirely. Adrian Veigt's delightfully creepy and trippy scenes counterbalance the heaviness (water-clogged baby clones! Jupiter's moon!), promising more delightfully unpredictable craziness. The rest of the vibrant cast shines.
Watchmen is deeply steeped in black history, existential musings, politics, and otherworldliness, each scene containing a plethora of references/odes to the original. It's a subtle but sharp indictment of the current system. The show strays away from the conventional template of good guys getting together and battling evil. Everything is submerged in a deep fog of grey (despite the bright color palette). The very notion of "super-heroism" is scrutinized, referred to as "vigilantism," and considered a punishable crime. It cunningly incorporates elements from the graphic novel that made it so special, so uncanny, eerie, engaging, original, and, yes, subversive.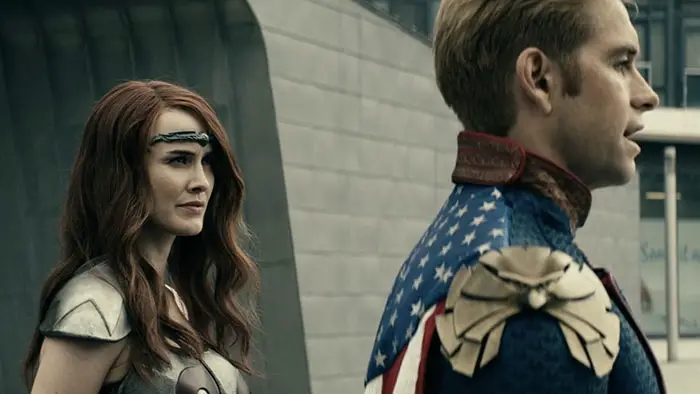 The Boys
Even more controversial is Amazon Prime's The Boys, developed by Seth Rogen, Evan Goldberg, and run by Eric Kripke. Based on Garth Ennis' (Preacher) graphic novel, it slightly dials back on the source material's assault of vulgarity; the book's filled with graphic depictions of mutilations and every sexual position you can imagine, all performed by superheroes (described as "Supes"). Split into factions, the "mighty" teams are run by the ultimate Seven, and its morally-repugnant leader Homelander (a macabre Anthony Starr). To keep the Supes in check, a ragtag group of vigilantes is formed, led by the Michael Caine-sounding Billy Butcher (Karl Urban, terrific). The show begins with our anti-heroes recruiting the hapless, tragedy-stricken Hughie (Jack Quaid) to help them with their gargantuan task.