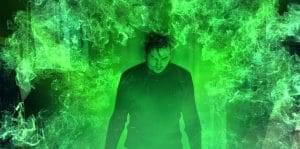 There have been several superb fan films featuring beloved comic book characters that Hollywood just can't seem to get right; some notable examples would be Thomas Jane's Laundry Day, which served as an unauthorized apology for Lionsgate's The Punisher (2004), John Fiorella's outstanding Robin fan film Grayson, Sandy Collora's wonderful Batman: Dead End, and my personal favorite, Joe Lynch's Truth in Journalism, a brilliant short film featuring former True Blood star Ryan Kwanten as Eddie Brock, the alter ego of Spider-Man villain Venom.
It's amazing what filmmakers can do with these characters when they're not chained to the chaotic whims of a focus group, or dealing with hundreds of dreadful studio notes by some clueless Executive who has no familiarity with the characters. Hot off his last viral fan film, Spider-Man Lives: A Miles Morales Story, writer and director Ivan Kander is releasing his next foray into Marvel territory with Von Doom, a fan film that promises to (finally) properly depict the iconic Marvel super villain Doctor Doom. We've had three different iterations of the character, and all three have failed to encapsulate the rich history, depth, and characteristics long time fans associate with the Ruler of Latveria; here's what Kander had to say about bringing his vision of Doctor Doom to life:
"…Marvel has a villain problem."
"As much as I love the Marvel Cinematic Universe films (and believe me, I love them), I'll concede that Marvel has a "villain problem." To be blunt, the adversarial characters in most Marvel films are usually bland, generic foes. But, what about Dr. Doom? He's arguably Marvel's best (and most famous) villain, but for some reason he's never translated well to screen (see 2015's Fantastic Four as the most recent cinematic example/mishap). Well, in my own small way, I tried to remedy this situation and give the good doctor the story he deserves. With a limited set of resources and the help of a talented crew all based in Washington, DC, I set out to make a Dr. Doom movie. The aim was to convey Doom's complexity—his evolution from tortured genius to badass super villain in a mere 12 minutes. It's a film about the inevitability of fate and how the darkest moments in a person's life can define his destiny."
The film is just under 14 minutes long (including credits and a post credits scene), and it tells an origin story of sorts about a young adult Viktor Von Doom going back in time to save his Father. The budget was just a little over $11,000, but the quality of Kander's surpasses such a modest budget; the actors and the special effects are quite impressive, specifically Alex McKelvey who plays college age Doom, John Paul Andrews as the villainous Baron, and Scott Cummings as Werner Von Doom, Viktor's doomed (heh) Father. I'd say the weakest part of Von Doom is easily it's costume design, specifically for Doctor Doom; it just seemed, well…a bit cheap. It's mostly forgivable when you take into account the low budget, but when everything else appears to be so exceptional, Doctor Doom's get up stands out like a sore thumb.
"…I highly recommend it, especially if you're a Fantastic Four fan scorned by all of the disappointing and lackluster films."
Von Doom is a fantastic fan film, one can only hope that someday we'll see a Doctor Doom on the big screen with half the layers and complexities we see in this short 14 minute video. It still amazes me how Hollywood can botch this wonderful character three times, and not even come close to the magnificence the character radiates in the comics and other media. This is a character that was an obvious inspiration for Darth Vader for god sake! In the comics he's brought the Avengers to their knees, pimp slapped the Hulk, and literally obtained godhood…He's the ruler of an influential nation, a master of both science and magic, he's jealous, petty, arrogant, damaged, and ridiculously self-conscious…where is this intricacy in Hollywood's big budget depictions? Ivan Kander and his team deliver a look into what a faithful, more accurate depiction of Doctor Doom could be like, and as amazing as it is, it just left me wanting more. Definitely give Kander's Von Doom a watch; I highly recommend it, especially if you're a Fantastic Four fan scorned by all of the disappointing and lackluster films.