Gambling and casinos have a rich history in America, and it has been an integral aspect of culture for many decades. The art of gambling has been well represented in a number of movies. Many movies have had plots centered around physical casinos, and they also involved classic gambling games such as Poker and Blackjack. Some of the movies involve a baccarat casino, whereas other movies represent poker casinos. Baccarat is an exciting gambling game that is played with cards, and it is a game that has been showcased in many gambling movies in the past decades. Many other classic and modern casino games have also made it to the big screen. In this article, we will countdown the top 10 gambling movies of all time.
1. Casino (1995)
The first movie to make it on our list is widely considered to be the most iconic gambling movie by many viewers. It stars Joe Pesci and Robert De Niro, and the plot centers around a mafia controlled casino. The film has tons of gambling references and some of the most intense yet memorable scenes which have given it the status of being a cult classic.
2. Casino Royale
The second movie on our list is another hugely iconic gambling movie — this 007 thriller starring Daniel Craig as James Bond. The movie's plot revolves around a high stakes poker tournament. The film is incredibly engaging from start to finish and remains one of the most beloved Bond movies of all time. It had the high octane action and glamour that you will have to come to expect from a James Bond movie.
3. The Gambler (2014)
The next movie on our list is a modern adaptation of the 1974 classic, which went by the same name. It has all the ingredients for an iconic gambling movie, and it stars Mark Wahlberg, who takes up the role of a high-stakes gambler. One of the best aspects of the movie is the gritty depiction of gambling addiction. The movie finely balances intense realism with intense action sequences.
4. The Sting (1973)
The next gambling movie on our list is filled with intense twists and turns. It stars Paul Newman and Robert Redford, who stunned audiences with their fantastic chemistry. It revolves around the actors trying to go after a criminal who is very fond of gambling. This thriller features many aspects of gambling and keeps the viewer on their seat for the entire time.
5. The Hustler (1961)
The next movie on our list is another oldie that was set in a time when the gambling scene looked very different from the scene we see today. Paul Newman stars in this epic that is based around pool halls. They were incredibly popular places to gamble, and this gritty depiction goes into detail into how early gambling culture developed in the United States.
6. 21 (2008)
This next movie is one that was based on an incredible true story, and it delves into the art of card counting in casinos. The movie revolves around the classic game of blackjack, which is also known as "21". Against the odds, the characters somehow manage to come out on top against the best casinos in Las Vegas. This is an essential watch for those who are interested in casino gambling or card counting
7. Rounders (1998)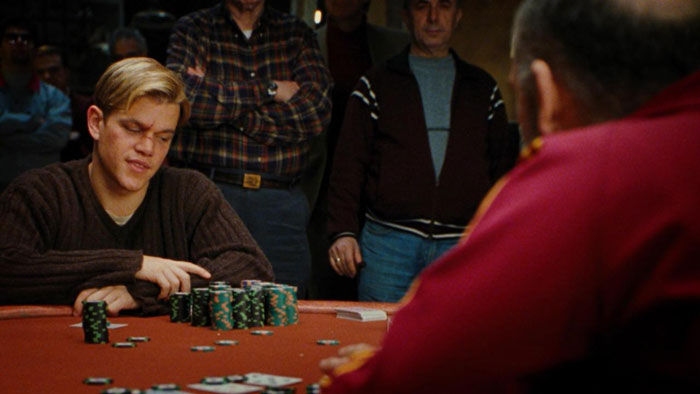 The final gambling movie to make it on our list features a young Matt Damon who plays a character that is looking to pay off university fees by winning big in Poker. Edward Norton also stars in this high-stakes movie that showcases an intense and realistic depiction of the poker table. This is an essential watch for Poker lovers, but also for anyone that is a fan of authentic gambling experiences.
All of these movies provide a thrilling experience on the big screen that shows off the many forms of gambling. Many can be considered cult classics for their breathtaking portrayals. What are some of your favorite gambling movies of all time? Let us know in the comments.