Casinos make an appealing backdrop for movies as they are packed full of glamor and bright lights. Vegas is always a popular location, which comes as no surprise as it really has earned the title of the gambling capital of the world. Whether the films are flights of fancy by the director or based on events that really happened, there is an excellent choice of casino-based movies waiting to entertain you, and Roulettepro.com picks some of their staff favorites.
21
This is loosely based on the true life, legal casino heist of all time. While the story does deviate somewhat from what actually happened the basic facts are there are replicated for all to enjoy. A group of mathematics students attending MIT were coached by their tutor to count cards. They developed a method that involved creating a language of their own, with one person acting as the lookout and watching the tables, then signaling to the big player once the maths stacked up in their favor. Posing as a rich brat or playboy the member of the group betting would land at the table, make super huge bets, win everything and disappear into the night. The film is exciting and fast-paced and contrasts between their dull daily lives and the high rolling fun they have at the weekends. Eventually, they were caught by casino security, but the millions they took set them all up for life.
Ocean's Eleven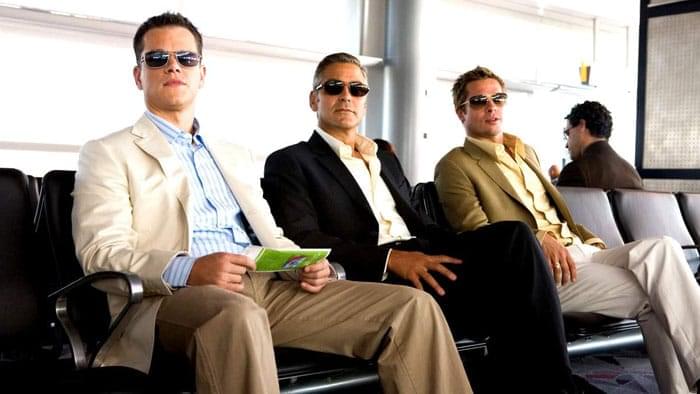 Now there are several Ocean's movies, and there is a casino theme running through them all. The premise of the first one, Ocean's Eleven is that the newly released jailbird gang leader, (who clearly hasn't learned his lesson) Danny Ocean, plans to steal the vault contents of three Las Vegas Casinos, at the same time, with his band of eleven criminal misfits. Cue chaos and seat of the edge action as the team spring into action to pull the biggest illegal casino heist of all times. As you might have worked out this one is made up fun, but it was a box office smash and spawned more movies in the franchise.
Casino
An oldie but goodie, Casino features Robert De Niro as a mobster who gets himself into a cushy job with his bosses running the Tangiers Casino. Things are going great until Joe Pesci, who plays an enforcer with an unpredictable nature, moves in, and is followed by his wife Ginger played by Sharon Stone. Her ex-boyfriend happens to be a con-artist and events unfold that De Nero cannot control getting him in the hot stuff with the mob. This 1995 Martin Scorsese hit features big names and big budgets (think $52 million dollars) and is actually an adaptation of a book by Nicholas Pileggi. Fast-paced and full of action, Sharon Stone was awarded a Golden Globe for Best Actress and the film received many other accolades from ceremonies around the world. If you haven't seen it, you really should!