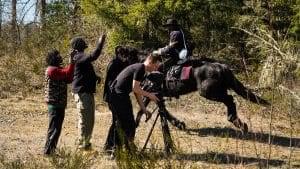 While you're making your film, you probably aren't thinking about everything you'll need to market your finished product — but you should be. You're going to need compelling content to build your audience, and you're going to need a lot of it. Having a large asset pool to pull from for your EPK and poster creation, crowdfunding campaign, press releases, festival submissions, digital ads, and social media is an essential part of your film marketing.
Planning ahead while you're shooting will save you a lot of time and aggravation when you're ready to launch your project out into the world. Here are four types of content you should have when you finish your film to make your marketing plan run smoothly.
1) HIGH-RES PRODUCTION STILLS
We mentioned this in our first Film Threat column; having a compelling key image is essential for your film's marketing — but before you decide which image best represents your film, you'll need to have an archive of beautiful stills to choose from. Plan to hire someone to take a series of stills throughout your production so you have a stash of photos to draw from and use across all of your marketing.
DO take photos of:
Scenes that define the look and feel of your film
Characters interacting with one another
Close-ups of your actor/subjects during an emotional moment
Posed portraits of the lead cast in character
DON'T take photos of:
Shots of lots of people wandering around the set
Scenes that are so dark a flash has to be used
Candid expressions that don't define the characters
2) BEHIND THE SCENES PHOTOS
Showing your audience that there are real people behind your film and its message is an easy way to build authenticity and personality online. While your hired photog may also take a few behind-the-scenes stills, their main job is to show off the film itself. Task a crew member (or a few) with taking some photos during production – even if it's on their phone. These types of pics are perfect for social media and PR pitches to filmmaking and industry outlets.
DO take photos of:
Directors and cinematographers behind the camera
Candid snaps of actors on set
Close-ups of set models or special F/X setups
Set dressing details, interesting costumes, special props, etc.
DON'T take photos of:
Cast and crew eating (no one wants to see that)
Shots of equipment without people using it
Anything that will give away too much of your plot!
3) A FEW VERSIONS OF YOUR TRAILER
Usually a trailer is the last thing a filmmaker cuts together after their film is finished, but it's smart to consider making a short teaser trailer up front, especially if you're planning to do a crowdfunding campaign. You should also have a longer trailer (1-2 minutes) that grabs viewers from the beginning, keeps them interested, and doesn't give anything away — plus one shorter trailer for digital ads that is less than a minute; ideally 30-45 seconds.
DO include:
A strong narrative; your trailer should be more just than a montage of images
A moment that defines who your main characters are
Music: a score adds context and personality
The title of your film (for VOD releases, add info on where people can buy or rent)
DON'T include:
Too many fade-outs – the trailer shouldn't feel like a series of disconnected scenes
Too much information; people have short attention spans!
The ending of your film (this seems obvious, but you'd be surprised by how many times we see this)
4) A SERIES OF VIDEO CLIPS
While you're cutting your trailer, think about editing some shorter, 10-20 second pieces for stand-alone clips that will grab an audience's attention and leave them intrigued about your film. You can also work clips into your behind-the-scenes plan; for example: grabbing quick, on camera interviews from your actors that you can use later for a "Meet the Cast" series of posts. Video clips are great for use on social media and digital ads, and can also be used in publicity pitches as exclusive content for press.
DO cut clips of:
A dramatic or funny dialog exchange that can stand on its own
Characters performing physical comedy
Sequences that build suspense
Compelling quotes or speeches from documentary subjects
DON'T cut clips of:
Characters sleeping, reading, or doing mundane tasks
Plot points or dialog that doesn't make sense out of context
Scenery; clips should focus on characters/subjects
With these four essential pieces of content, you'll have a good base of assets to use for marketing and can hit the ground running once you nail down your strategy!
Photos from Buffalo Soldiers of the Pacific Northwest, a documentary directed by Dru Holley and Jerry Bell Jr.
Smarthouse Creative is a marketing agency for independent filmmakers. Whether you're looking for an overall marketing strategy that marries advertising, social media, and publicity, or just a stand-alone digital ad, social media, or PR plan for your indie film, we can help.
Smarthousecreative.com | Twitter | Instagram | Facebook