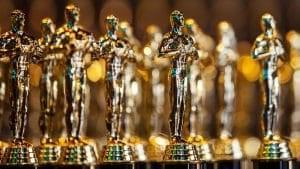 Is it too early to talk about who will win Oscar gold in 2020? There are movies that are released early in the year that sometimes make their way for Oscar consideration come the fall. It's certain that The Irishman, directed by Martin Scorsese with Robert DeNiro and Joe Pesci and coming in the fall from Netflix is a lock for a Best Picture nod. The film has been gaining a lot of steam according to SBD's Odds, who positions it as the leader of the pack for upcoming movies that will likely be nominated for an Oscar next year.
And there are plenty of other films that may get the attention of the Academy that will be out soon. You can check current odds at SBD's Odds, but here's a quick round up by category of Oscar possibilities that are coming soon.
Drama
All Creatures Here Below is finally getting released Samuel Goldwyn films. The festival favorite wowed audiences who were drawn in by the gripping drama. It's certain to get attention this fall either for an Oscar, a Spirit Award or for Award This!
Lupe is a longshot but it continues to gain festival praise and awards recognition on the festival circuit. It's pretty much a lock for an Independent Spirit Award and if the Oscars are open to it, Lupe might make the cut for a nom.
The Man Who Killed Don Quixote has long been talked about and with the excellent cast featuring Adam Driver (nominated last year for BlacKkKlansman) it's sure to gain attention come time for the nominations to be announced.
Documentary
Sports documentaries are not often nominated for Oscars, but it has happened. The story of The Russian Five is legendary and the documentary lives up to the hype. If there are enough Detroit Red Wings fans in the Academy, you can be sure this doc will get the nom.
HBO documentaries are very often awards-caliber and this one is no different. I Love You, Now Die is sure to get attention, but documentaries do tend to be a crowded field.
And here's an interview with I Love You, Now Die director Erin Lee Car from the SXSW Film Festival. (Check out more movies in our SXSW Wrap Up story for 2019.)
Animation
Pixar, up until recently when Spider-Man: Into the Spider-Verse was released, had a lock on the Best Animated Feature Oscar category. But with the release of the latest film in the Toy Story series, we're pretty sure that this one will at least get nominated.
Indie Drama Longshots
Late Night and William by Tim Disney have just hit and could be considered if they sustain attention until the fall. Whether it's an Oscar nomination or an Independent Spirit Awards or even recognition from Film Threat's own show Award This!, these are all worthy contenders for awards. We'll see come this fall when the Oscar race heats up, but at least you can enjoy these trailers and add them all to your list.