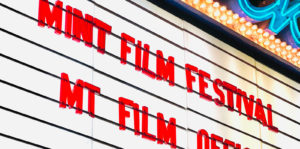 The Montana International Film Festival—MINT wrapped on Sunday, September 18, with a great deal to celebrate. Although a scaled-back event, it packed a great punch of enthusiasm, support, and some exciting guests and attendees for this Billings, Montana, cultural institution changing the arts landscape of the town with several other essential arts entities.
Winning the 2022 MINT Spirit Award, the narrative short film Sons of Toledo. After receiving the early morning news of his younger brother's murder, a mourning barber pushes through the muddy waters of grief to find the courage to do the impossible—give his brother one last cut. 
Winning the 2022 MINT Best Made-In-Montana Film was Only Roundup Remains. In attendance for the film's Q&A was director Brian Liu, producer Andrew Labens, and the entire group of cowboys featured in the documentary. In central Montana, the Highwood Cattle Roundup has been happening exactly this same way since 1912. As the world changes and modernizes, this proud iconic American culture struggles to preserve its way of life.
MINT also presented actor Mario Van Peebles with a Lifetime Achievement Award. Mario Van Peebles, who was scouting in Montana for a future film project, spent time at MINT's opening night participating in interviews and speaking at great length about independent filmmaking, which he has been a part of since he performed in his father, Melvin Van Peebles' film, Sweet Sweetback's Baadasssss Song, in 1971. Since, Mario has garnered 108 actor credits, 51 director credits, and 15 producer credits.
As the MINT perseveres, serving Montana filmmakers and beyond, it presents stories that are often unknown.
"One of our filmmakers commented to me that the narrative shorts block at MINT was one of the best she had ever seen," says MINT Film Festival Founder and Executive Director Brian Murnion. "It was very positively received, and one of the main takeaways of this year's programming was that they could see every film. In the past years, attendees had to choose what they could see. This year it was the sentiment of many that it was a much better experience to see every film at the festival."
A more affordable all-access pass made it possible for more people to attend. "It's the mission of MINT to connect with the audience," says Murnion. "All the films except for very few had a filmmaker in attendance. The audiences were well-engaged, with great questions in all the Q&As. Many attendees wanted to see the films again, especially Who Are the Marcuses? which closed the 2022 event and was so well attended that people were sitting on the floor to watch."
MINT was also attended by film director, television director, and screenwriter John Dahl, a Billings native and festival supporter whose resume includes directing Ray Donovan, The Affair, Yellowstone, and many other episodic television shows and directed the feature films The Seduction and Red Rock West.
"It's important to have a film festival that reflects variety," says Murnion. "It was never our intention to program one type of film. We pick from the best that comes through our doors. This year's films were more intentional with what they were expressing, which was good for festival goers to broaden their perspective when there's a deep message to take away."
For the future of MINT, it will move forward and develop with a program team expansion and plans to add special screenings throughout the year, premiering Made in Montana films. 
"We can work directly with filmmakers and create more screening opportunities," says Murnion. "We have dedicated sponsors and supporters with an increase in donations, which we are grateful for, but always looking for more, especially industry-related, and there are potential collaborations for the future."
This 2022 MINT festival was presented by the Montana Film Office, which supports filmmaking, film events, and film studios in Montana, along with film exhibitions at festivals like the MINT. For more about MINT, visit mintfilmfestival.org.