All film festivals have to start somehow and somewhere, and often, it's a Herculean effort to launch. After attending the first Montana International Film Festival [MINT] in Billings, Montana, which took place September 14 through 16, I was reminded of the power of independent film and the like minds who love it and live it—it's a little messy and a bit rough, but feels good. You want to do it again.
In the heart of downtown Billings, MINT opened to a beautiful, mild weather weekend of screenings, panel discussions and events. Kicking off the opening night at the historic Babcock Theater was "The Children Act" directed by Richard Eyre, adapted by Ian McEwan, based on his novel of the same name and starring Emma Thompson, Stanley Tucci and Fionn Whitehead. It is a sophisticated and smart dramatic film questioning the morality and rights of adults and teenagers with excellent performances by all. "The Children Act" also opened in New York City and Los Angeles the same evening, setting the tone for a weekend of interesting and poignant cinema.
"There are people who don't know there are films outside of Hollywood, and those who are desperate for films outside of Hollywood." – Brian Murnion, MINT Executive Director
In an opening remark, MINT's executive director, Brian Murnion, laid out the intended future plans for MINT and how the historic Babcock Theater's marquis was turned on for the inaugural event, which he feels confident will stay on and continue to be a venue in support of MINT and independent cinema.
Murnion said, "By defying challenges and overcoming fear and self-doubt, I am humbled by what people can do and create. We must continue to push ourselves forward through our comfort zones and the unexpected. Film, based on my experience, is one of the most powerful devices to do that. It transcends it all."
A year and half in the making, MINT is the brainchild of Murnion along with the assistance of Program Director Pete Tolton, Venue Manager Ryan Kabeary, Marketing Manager Ruhiyyih Olsen and Media Director Kenneth Jarecke. It's a festival with a small budget, but there were many supporters that propelled themselves into the burgeoning film event.
"By defying challenges and overcoming fear and self-doubt, I am humbled by what people can do and create…"
The main theater the Babcock and its classic art deco theater were resurrected for the event, and it served as the hub for competition films and panel discussions. Around the corner from the Babcock, the Art House Cinema and 2905 Montana Ave also presented art and competition films in more modest settings, but were just as organic and alive with indie spirit. All the venues allowed for very enjoyable viewing experiences with film blocks to fit the settings including "Made in Montana" films, which showcased the beauty and possibilities that Montana offers filmmakers.
"Why MINT?" said Montana Film Commissioner Allison Whitmer, who also moderated a Women-in-Film Panel. "MINT tastes good. Why come to Billings, Montana? The MINT festival is the third leg in a world-class art city. We have a festival, art museum and a performing arts center all providing the base for Billings to become an arts resource and an amazing cultural hub. People will make movies in Montana, and, hopefully, they will screen them in the historic Babcock Theater."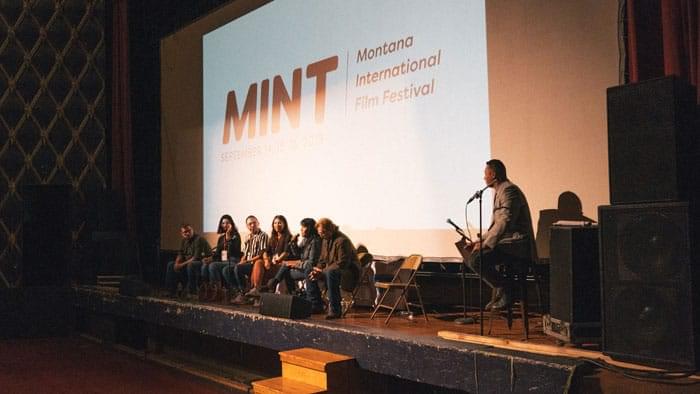 "So many of us have to play Indian 101 with everyone," said the Indigenous Film Panel moderator Ben Pease, "We need to decolonize the Native American story."
As Montana is surrounded by several reservations, an understated theme to MINT's launch was highlighting indigenous people in film. An Indigenous Film Panel shed light on the real world of Native Americans, not just their existence but also their artistic sensibility and the stories they can tell as artists and filmmakers. They want to be able to share their creativity and craft.
"So many of us have to play Indian 101 with everyone," said the Indigenous Film Panel moderator Ben Pease, "We need to decolonize the Native American story."
"…and there's a part of the community that a film festival is a new entity for them."
MINT received films from over 40 countries, exhibited seven world premiers, 37 Montana premieres and screened a total of 55 feature length dramatic, documentary and short films. Locally funded except for a state grant, the community support was the core to making the festival launch successful. Several actors, directors and producers attended with their respective films; beyond the insightful panels, including a very topical Women in Film panel, was a sprinkle of film industry talents including writers, producers and film supporters.
However, with a desire to be an Oscar qualifying festival and to create a film market, MINT has some big shoes to fill. With high expectations and goals, MINT would like a future for independent film in Billings. Billings, like many towns in America, is growing and reinventing with the current social and political climate that is the U.S. in 2018. MINT programming reflected it all from a local to a universal level, especially at its award ceremony where seven films won awards including: MINT Sprit Award, Best Made in Montana, Best Female Director, Best Narrative Feature, Best Narrative Short, Best Documentary Feature and Best Documentary Short. Cash prizes were awarded along with a stylish, locally crafted feather statue award. A few films to note, winners included Made in Montana films, "The Battered Wife" and "Willow Creek Road." In addition, other winning films included the documentaries "American Relapse," "General Magic" and the feature film "We Were Islands." All showcased current struggles and existence in the U.S., reflecting change and controversy as a documentary or dramatic commentary on society.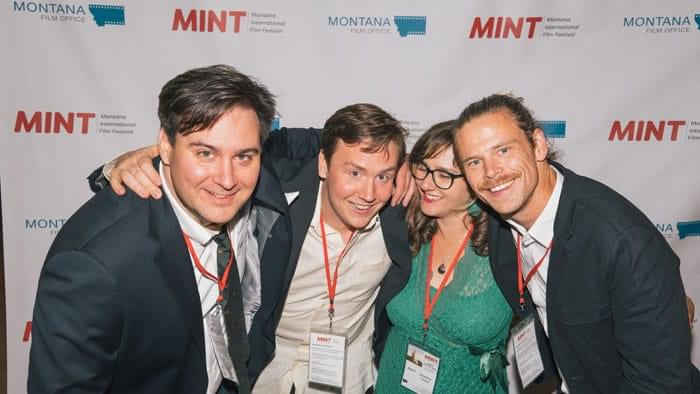 "When you bring them together in the same room, the films will create discussion, thinking and forward notions on all sorts of topics."
MINT's future for community involvement could be endless. Those who supported MINT represented Billings well from the incredible views at Mint Sponsor the Petroleum Club Billings on the 22nd floor of the Doubletree Hotel, where good eats were served, to the eclectic lodgings at the Dude Rancher Lodge. Very good eats where served in eclectic lodgings at the Dude Rancher Lodge. There were tasty, affordable drinks at Doc Harper's and Kibler & Kirch, a beautiful gallery and design house. Billings feels like a rising Western star— a little bit of Boise, Idaho with a slight nod to Reno, Nevada and strong influence of neighboring cities of Bozeman and Livingston. Organizers should be proud of what they did to birth MINT, as so many festivals have years to go before they reach the level that they created on their inaugural run.
With very good local media coverage, a ticketing system, excellent volunteers and a small but mighty staff who were congenial and enjoyable, MINT is positioned to be the third leg for culture and events in Billings.
"Part of the community has eagerly anticipated MINT and there's a part of the community that a film festival is a new entity for them," said Murnion. "Bringing these two pieces together is going to be the real draw of the festival. There are people who don't know there are films outside of Hollywood, and those who are desperate for films outside of Hollywood. When you bring them together in the same room, the films will create discussion, thinking and forward notions on all sorts of topics. I love it."