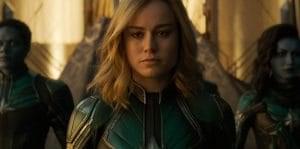 This week the top two films at the box office Captain Marvel and How to Train Your Dragon: Hidden World pass the Gold Test! The Gold Test (similar to the Bechdel Test regarding female portrayals) is meant to focus attention on film and television portrayals of the largest minority group, people with disabilities.
The Gold Test has the following three levels.
10 karat Gold – Part A: Is there anyone in the world of this story that has any type of disability and is not stereotyped? If it passes it goes on to…
14 karat Gold – Part B: Does the work feature a disabled character whose story is not about their disability, and whose character is not solely defined by their disability?
24 karat Gold – Part C: And for bonus points, I added is the character is played by an actor with that same disability.
Captain Marvel and How to Train Your Dragon: Hidden World pass at the 14 karat Gold level.
Of course, many superhero films fail the Gold Test since they rely on the old stereotype of the "angry avenger" character which is disabled or disfigured in some way and seeks revenge. A good example would be the Wonder Woman character Dr. Maru (Played by Elena Anaya) who had a disfigured face and therefore is the evil blood thirsty scientist or the Wayne Industries worker Wallace Keefe (played by Scoot McNairy) who is paralyzed after a work explosion and then seeks revenge by helping Lex Luthor in Batman V Superman: Dawn of Justice. One could argue: "At least someone with a disability exist in the world, so it should pass." Welcome to the difficult nuances of the Gold Test.
Yes, it is fantastic to be included even if it is a bit part or background actor, but since these roles are defined stereotypically, they fail the Gold Test. In Captain Marvel it is refreshing to see a superhero film that includes a character with a disability who is not the evil one. Captain Marvel passes the Gold Test, albeit just barely, as it shows the events that lead to future S.H.I.E.L.D. director Nick Fury (Samuel L. Jackson) losing his eye and treats it as no big deal. He continues with his life and work.
The final film in the How to Train Your Dragon trilogy passes the Gold Test by continuing to show Viking chief Hiccup (played by Jay Baruchel) and his dragon partner Toothless living happy and productive lives with disabilities. By the way, all of the How to Train Your Dragon films pass the Gold Test and have set a great example of how disabled characters should be portrayed. The characters are fully dimensional and not defined by their disability.
The Gold Test is for everyone to use, so please feel free to put films to the test and see what you discover.
Jenni Gold is an award-winning writer, director, and film producer whose latest project CinemAbility: The Art of Inclusion is 100% Fresh on Rotten Tomatoes and is currently on sale everywhere. Jenni is also the CEO of Gold Pictures, a woman-owned entertainment company in Los Angeles whose mission is to produce quality entertainment that will stand the test of time.