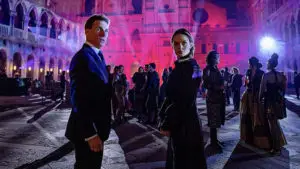 If there's one thing you can rely on in this world, it's that Mission Impossible movies are going to bring in audiences. The latest offering, Dead Reckoning Part One, did achieve its aim and raked in $560 million worldwide. However, it ended up as a flop thanks to its high production costs, with a loss of around $40 million for Paramount Pictures.
Dead Reckoning Part Two is set for release in 2024, and it will have to fix a few of the failures of its predecessor it if is to be a box office sensation.
Dead Reckoning Part One Affected by Barbenheimer
Dead Reckoning had everything that viewers want in a Mission Impossible movie: the star-studded cast, the high octane action, and the incredibly high stakes. The formula was in place for it to be a surefire hit for Paramount. The only thing that the film couldn't control were external factors in the movie industry. According to The Review Geek, the only reason why the new Mission Impossible failed was because of the Barbenheimer phenomenon.
This was when Greta Gerwig's Barbie and Christopher Nolan's Oppenheimer were released simultaneously. In the lead up to their premieres, a social media storm ensued where people were encouraged to watch the two movies as a double bill. This helped both offerings exceed their box office projections, with Barbie earning more than $1.38 billion and Oppenheimer bringing in over $853 million.
Doesn't Reflect Badly on Tom Cruise
Despite being a commercial failure, Dead Reckoning Part One was lauded by critics and is considered one of the best entries in the long-running franchise. The overall Rotten Tomatoes score is 96 percent, and the consensus was that the action sequences were the highlight. They helped to raise the stakes higher than ever before and took viewers to new levels of incredulity.
The failure of the picture doesn't reflect badly on any of the team involved, especially Tom Cruise. As usual, the action star was incredible in his most famous role, and he still got to pick up his paycheck for his performance despite the production company failing to make a profit. According to a Lottoland blog article, the 61-year-old is still the highest paid actor in Hollywood with a net worth of $570 million.
Dead Reckoning Part Two Could Be Even Better
The fact that Dead Reckoning Part One wasn't a money maker for Paramount shouldn't be a problem for its sequel's release. According to a blog post in Esquire, releasing pictures as Part One and Part Two in the modern age is a great tactic for production companies.
The second feature will attract most of the people who saw the first and want to know how the story ends, while it will also have a greater marketing model in place thanks to the reviews of its predecessor.
Paramount Pictures could have never envisioned the Barbenheimer phenomenon, and that's why Dead Reckoning didn't do as well as hoped. The second installment is likely to be a much bigger hit.