The presence of casinos in movies truly contributes to the glamour of the picture – it's little wonder so many scriptwriters and directors harness this allure. If you're a cinema lover, you'll be able to think of countless movies featuring casinos, but which is your favourite?
The casino world has evolved since the release of these classic flicks – you can even play casino games online via your phone! The classic, inherent luxury of a casino is appealing for so many – these windowless wonders provide a heady mix of colour, glittering lights and the distinctive sound of a spinning roulette wheel. This all creates the perfect atmosphere for a director to work with.
We've put together these classic films featuring casinos – five of the best in our opinion!
Casino (1995)
Director: Martin Scorsese. Starring: Robert DeNiro, Sharon Stone, Joe Pesci
Set in 1970s Las Vegas, follows the story of low-level mobster and casino executive Sam 'Ace' Rosenthal (Robert DeNiro) and mafia enforcer Nicky Santoro (Joe Pesci).
Ace heads the Tangier Casino where much of the action is set. A story of corruption, violence, love and addiction – Casino earns its reputation as a classic.
Casino Royale (2006)
Director: Martin Campbell. Starring: Daniel Craig, Eva Green, Judi Dench
Considered far superior to the original adaptation, Martin Campbell's 2006 take on the James Bond story Casino Royale is packed full of action and tension.
The film centres around 007 (Daniel Craig) taking on villain Le Chiffre (Mads Mikkelsen) – their Monte Carlo poker showdown is gripping cinema at its finest.
Ocean's Eleven (2001)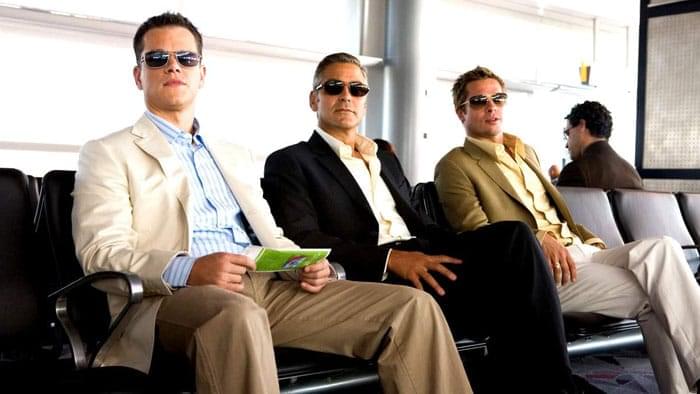 Director: Steven Soderbergh. Starring: Brad Pitt, George Clooney, Julia Roberts, Matt Damon
So good it's now a series of four. Ocean's Eleven was a breakout success, and with its star-studded cast it's easy to understand why. The 2001 Steven Soderbergh heist film is an adaptation of the 1960s Rat Pack version.
The storyline follows Danny Ocean (George Clooney) as he gathers a team of accomplices to simultaneously rob three Las Vegas casinos. Crammed with Hollywood royals, Ocean's Eleven is fast-paced and lots of fun.
The Cincinnati Kid (1965)
Director: Norman Jewison. Starring: Steve McQueen, Edward G. Robinson, Ann Margret
Famed for his impeccable delivery, Steve McQueen was dubbed 'The King of Cool' and his turn in The Cincinnati Kid was no different.
The plot follows the story of Eric 'The Kid' Stoner, a young poker star (McQueen) and his quest to rise through the ranks. The Kid comes across the best player of the time, but Lancey Howard (Edward G. Robinson) soon discovers there could be a fix on the cards.
The Cooler (2003)
Director: Wayne Kramer. Starring: William H.Macy, Maria Bello, Alec Baldwin
This 2003 Wayne Kramer casino movie follows unlucky character Bernie Lootz (William H. Macy) and his role at a Las Vegas casino. Lootz has a unique job – he's so down on his luck that he's employed to jinx punters around him into loss and misfortune.