It's springtime; time for egg hunts, pounds of chocolate, and adorable bunnies everywhere. But you're an adult now, and those childhood bunny-themed movies you loved as a kiddo aren't edgy enough.
So, after the kiddos have gone to sleep, bust out some chocolate bunnies, and a box of Peeps, and get caught up on some grown-up movies that just so happen to feature bunnies, rabbits, and disturbing characters. Note: These films are NOT for kids.
GOING FULL BUNNY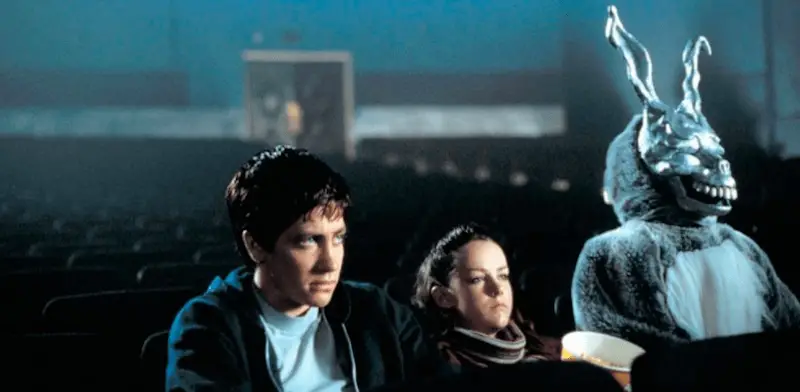 1. Donnie Darko (R)
Looking for a creepy movie with a giant man-sized horror rabbit? Donnie Darko has you covered. Fans of this movie have been known to "go deep" into its timeline, so don't be surprised if you have to watch this film more than once. Donnie Darko is a 2001 film, about a troubled teenager is plagued by visions of a man in a large rabbit suit (Frank) who manipulates him to commit a series of crimes, after he narrowly escapes a bizarre accident.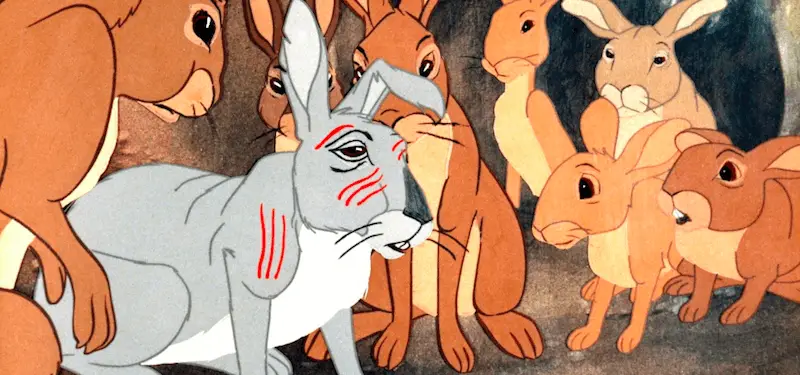 2. Watership Down (PG)
Think bunnies have easy, care-free lives? Think again. Take one look at this film and tell me how it got a PG rating; clearly 1978 was a different time. In Watership Down, a group of rabbits flee their doomed warren and face many dangers to find and protect their new home. Blood, death, violent attacks, and the struggle for survival abound.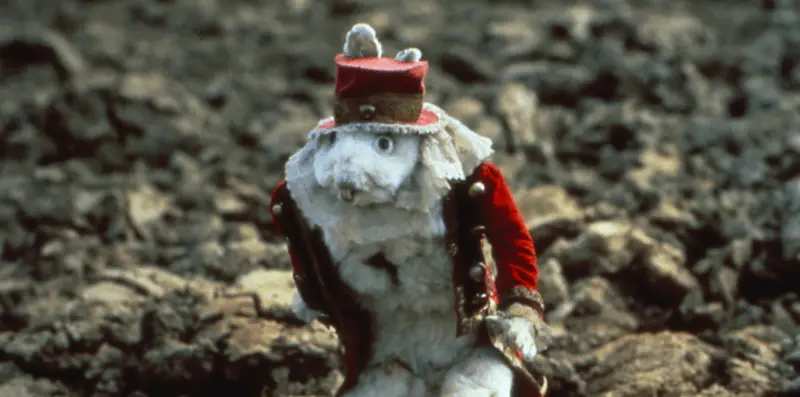 3. Alice, by Jan Švankmajer
What if the White rabbit were a taxidermy, come to life? Chews off the nails holding his feet in the victorian glass box, busts his seams to shed his sawdust, and all in glorious stop-motion. That's exactly what happens in this gloriously imaginative, adorable, creepy, and even scary version of Alice in Wonderland by Jan Švankmajer.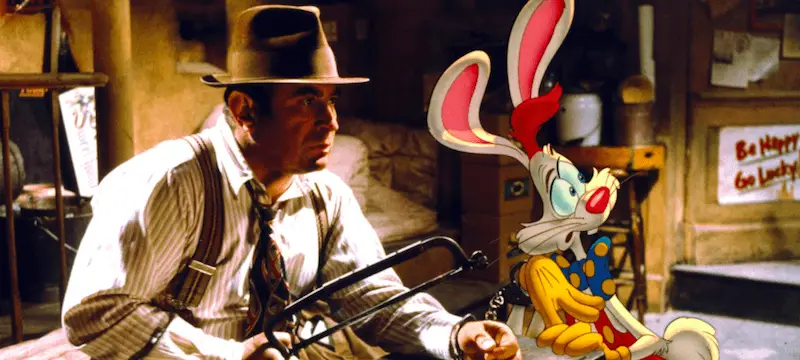 4. Who Framed Roger Rabbit (PG)
Tired of those black and white melodramatic gumshoe crime noir movies? Looking for something with more color, more wacky voices, more… Acme Portable Holes? In the (now classic) 1988 film, Who Framed Roger Rabbit, a toon-hating detective is a cartoon rabbit's only hope to prove his innocence when he is accused of murder. If you liked Cool World, but want something with more of a budget, this is it. And, in case you're feeling nostalgic, here is your earworm's new best friend.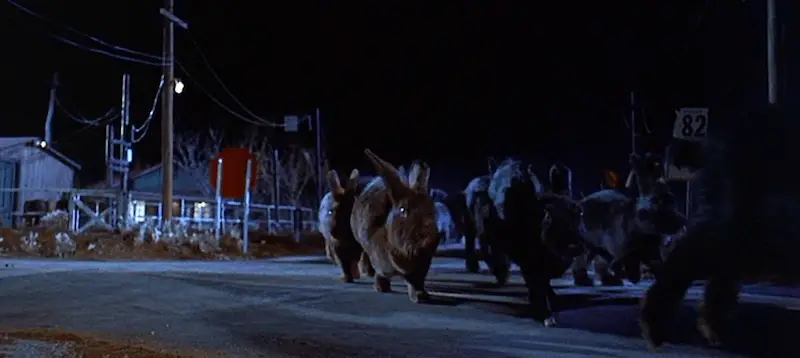 5. Night of the Lepus (PG)
What unknown terror was born that night? What is forced perspective and giant murder rabbits! Big bunnies and the hydra heads have something in common; kill one and a thousand more take its place. In this classic B-movie, giant mutant rabbits terrorize the southwest, it's basically a documentary right? Fur, blood, and cheesy effects abboud. Somehow this got a PG rating as well; again, the 1970's were a different time for ratings.
6. Meet the Feebles (R)
Last in the "full bunny" category and possibly, most disturbing of all, there is Meet the Feebles. Yes, from Peter Jackson himself, the man who would go on to make Lord of the Rings, here is one of the first films you had no idea he had anything to do with. What is it about kid's shows and puppets that leads filmmakers into a downward spiral of death and debauchery? Meet the Feebles is a film about puppets and their filthy, addicted, adult lives. If you're looking for something darker and crass, look no further.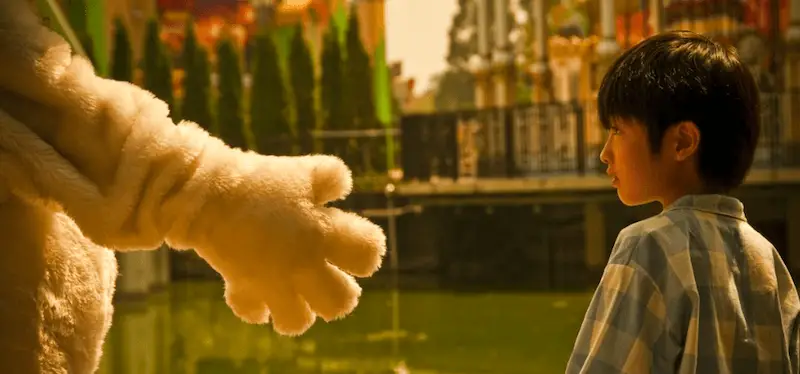 7. Tormented (Rabitto Hora 3D)
From the director of The Grudge, Tormented is a film about Daigo, who doesn't go to school anymore. Kiriko, his sister, is worried and their father won't help. Now Daigo is in danger, and Kiriko will have to follow him into a world of nightmares to discover the truth.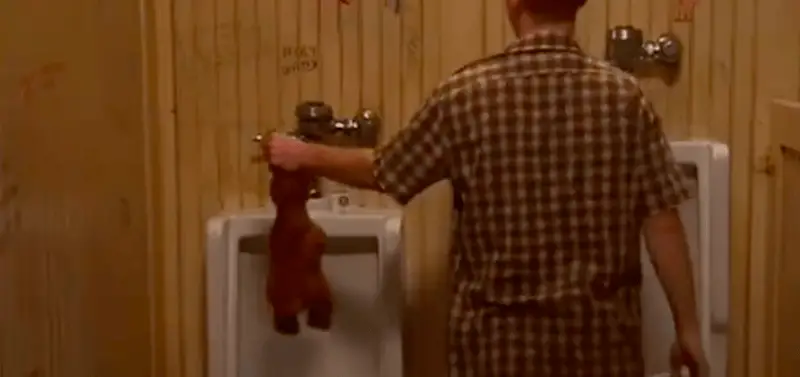 8. Greg the Bunny (TV-14) TV Show
Meet Greg, the loveable bunny puppet, (fresh from IFC), and new star of the kid's show Sweetknuckle Junction. But behind the scenes, these kid's show characters live adult (very adult) lives. This hilarious adult comedy TV show stars Seth Green, Eugene Levy, Bob Gudo, and Sarah Silverman, it's a true shame Fox took this off the air after a total of ONE season.
FAMOUS BUNNY CAMEOS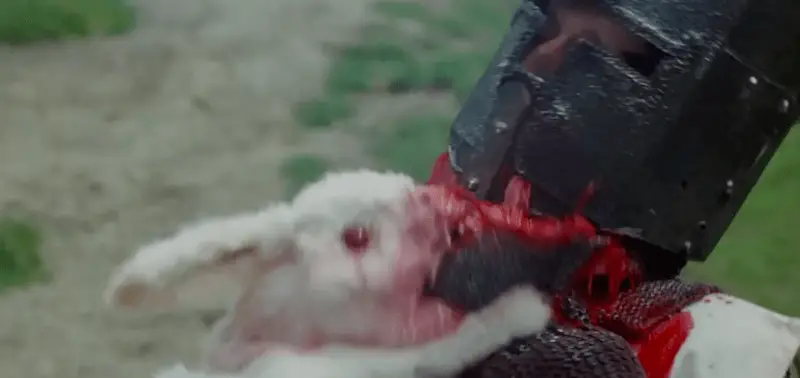 9. Monty Python and the Holy Grail (the rabbit scene) (PG)
"There he is!"
"What? Behind the rabbit?"
"He is the rabbit! … Look at the bones!"
You've been warned. You may think it's just a harmless little bunny, but you'd be wrong. Keep your Holy Hand Grenade of Antioch handy, lest ye be torn, limb from limb!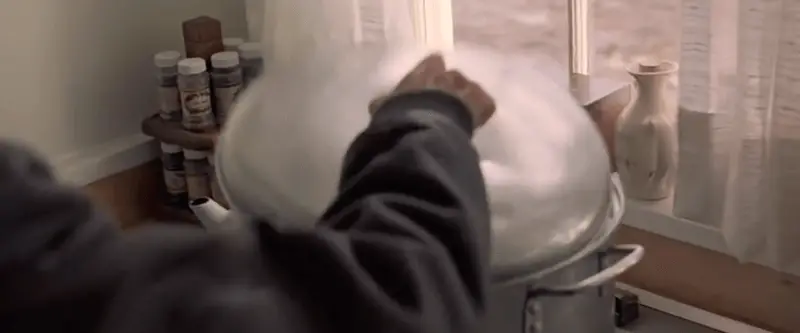 10. Fatal Attraction (boiled bunny scene) (R)
A married man's one-night stand comes back to haunt him when that lover begins to stalk him and his family. And this can only mean one thing for his wife's pet bunny.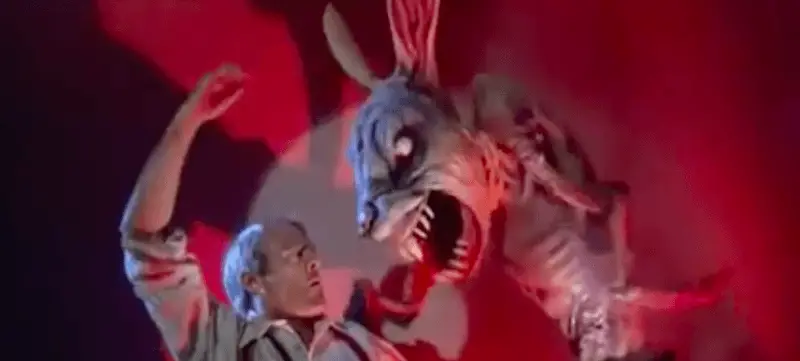 11. Twilight Zone: The Movie (Rabbit scenes)
Wanna watch a rabbit get pulled out of a hat like you've never seen before? This is your chance!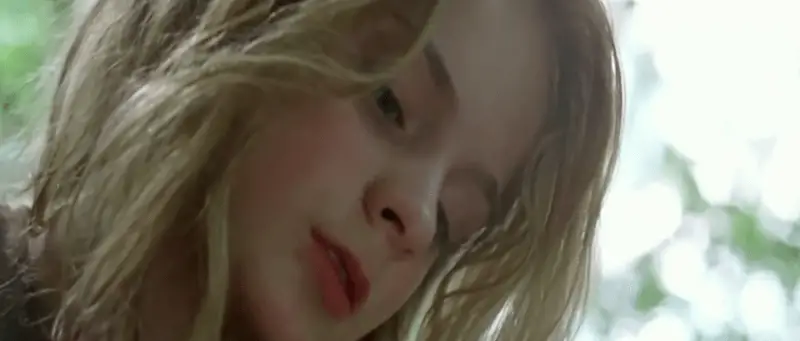 12. The Walking Dead
(when Lizzie murders the bunnies) (TV-MA) 
We get it; the zombie apocalypse is no place for children. So it's not totally unexpected when one of the show's child characters, Lizzie, starts acting odd. By odd, we mean flat-out stabbing cute fuzzy bunnies and feeling no remorse about it. 28 seconds into this video, you'll see what we're talking about. This moment sets up what Lizzy goes on to do later, and her… um… fate. (Spoilers).
MORE AWESOME BUNNIES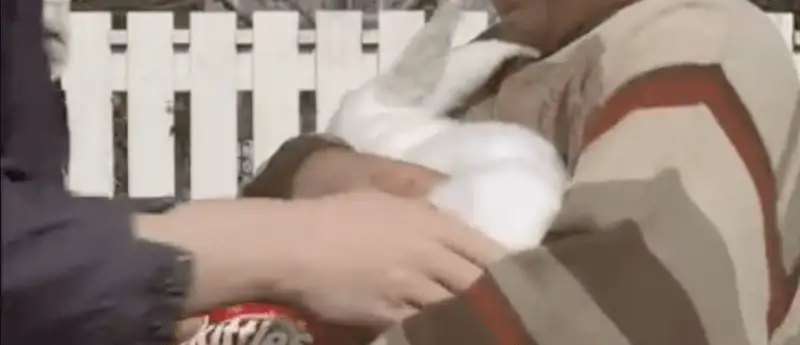 13. Skittles Commercial
Face it; we all want fluffy albion opera singing rabbits, but at what price? Would we go so far as to trade a precious bag of Skittles for one? You be the judge.
OFF-THE-RADAR BUNNY MOVIES
From wacky to weird, some of these movies are an experience. Some are so bad, they're almost good. If you've seen all the other bunny movies, and you want to see how far the rabbit hole goes, consider watching these at your own risk.
14. Rabbits Experience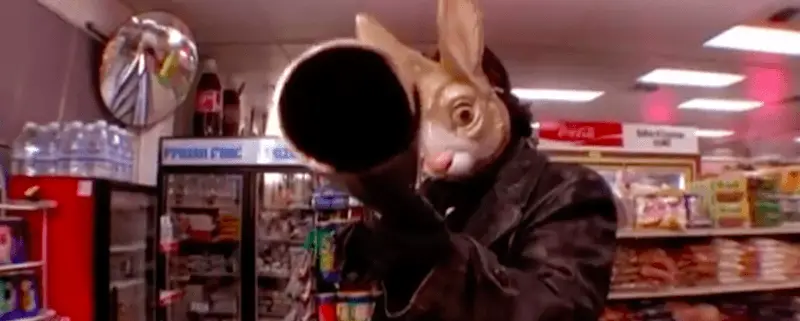 15. Easter Bunny, Kill! Kill! (2.5 stars)

16. Kottentail (2 stars)

17. Bunnyman Massacare (1.5 stars)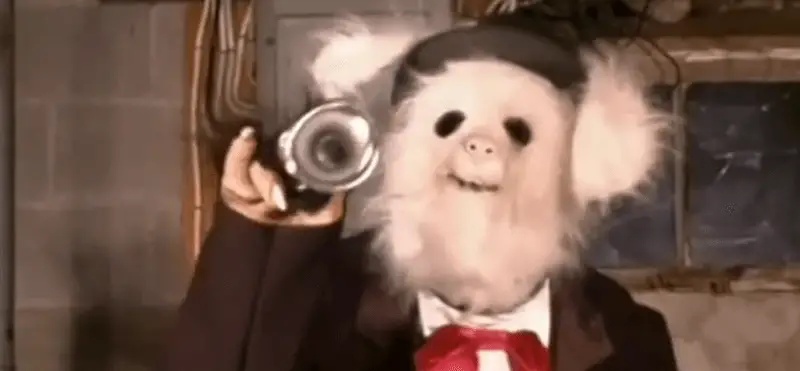 18. Peter Rottentail (3 stars)

19. Beaster Day: Here Comes Peter Cottonhell (4.1 stars)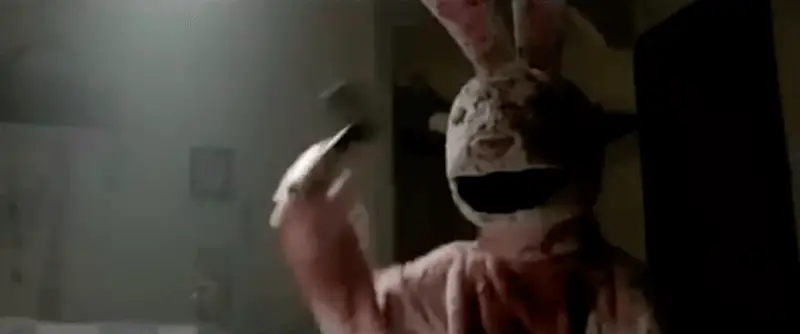 20. Belenggu (6 stars)
21. Rottentail (2017)
About the Author
Jennifer L. Jacobson is AtmosFX's certified film-school/media guru and a documentary filmmaker who loves amusement parks, character design, storytelling, and music. She is the founder of Jacobson Communication, the writer of 42 Rules of Social Media for Small Business, and a promoter of consumer technologies. She speaks nerd fluently and wrote her master's thesis on Puppets in Primetime.
About AtmosFX
AtmosFX is a digital decorating company that helps people customize their homes for holidays and celebrations with fun and entertaining animated characters and stories. From a crafty, yet clumsy witch, to Santa himself, zombies, a winter wonderland, and more, AtmosFX offers a variety of beautifully animated, amusement-park-quality scenes and characters that can be viewed on any TV or monitor, and projected on flat surfaces — even windows. For more information about AtmosFX, visit www.atmosfx.com