Various classic movies are centered around gambling. However, in this article, you are going to see the best gambling classic movies. The following films cover everything related to gambling; it includes casino gambling, online gambling and many more. Above all, all these movies are great. Looking for the right online gambling platform, pay n play kasino is your best bet.
Casino
This film is the most popular among all gambling movies and a longtime classic found on most movie buffs' Top Ten All Time Favorites lists. Casino, a movie by Martin Scorsese and released in 1995, tells a tale of mob-controlled casino gambling in Vegas. Robert De Niro is a casino owner with mafia relations and Joe Pesci star, A psychotic enforcer whose constant unsteady character begins to threaten them.
Together with the seductive appeal of Sharon Stone, some great performances by other characters and memorable scenes in the film, this movie became a classic.
The Hustler
A classic in every sense of it, The Hustler is a tale set in a time when online gambling hasn't become a reality and was almost a fantasy.
Paul Newman's "Fast" Eddie Felson is an upstart with an attitude trying to pit his gambling skills against Minnesota Fats' legend. A humbling experience soon got him broke, and his luck was at an all-time low.  Only the cruel training of manager Bert Gordon can make him as good as he was before. This is one of those gambling films that shows the history and origin of gambling in the U.S.
21
This movie is based on an extraordinary true story, is a modern classic in the casino gambling films genre. Set in the time before online gambling became a thing, this is the story of Kevin Spacey (maths professor) training up a group of talented students to count cards in the Vegas strip's major casinos. What follows next is a thrilling story of fast trickery, betrayal and hedonism. Anybody with interest in casino gambling, card counting and blackjack will find this movie interesting.
The Gambler
Perfectly named, The Gambler tells a university professor (played by James Caan) who is addicted to casino gambling. Along the line, the university professor plunged himself into self-destruction and his mental state became deteriorated every day. As he plunged deeper, he became worse, and his need for excitement threatens to put his life in danger. This film is for those who are against gambling or addiction of any kind.
Rounders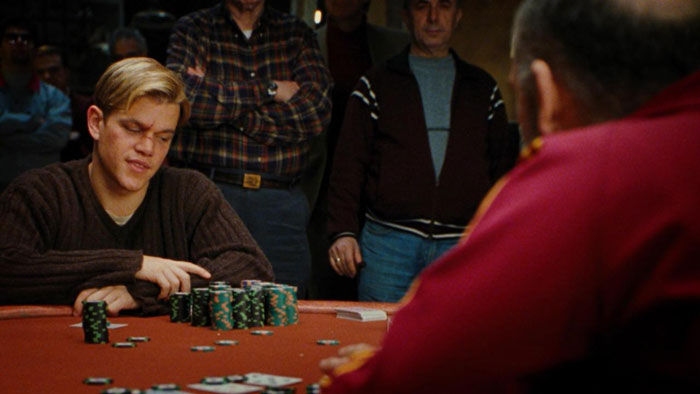 This movie features a young Matt Damon; Rounders tells a businessman who paid for his university tuition by winning at casino gambling.
The movie is full of popular actors, including appearances by John Malkovich and Edward Norton. It centres around a high-risk game with Malkovich playing the undefeatable poker baron that Damon must try and win. Norton's brilliant performances accompany the film, especially it is quite spectacular and displays original authentic poker strategy and table banter that only a few other movies with casino gambling themes could do perfectly.
 The Cooler
In this Wayne Kramer's movie. William H. Macy played an uncommon role. Macy played the role of 'cooler,' a famous man for his bad luck that casinos had to employ him to stand at the table of punters on hot streaks. Unfailingly, their luck changes for the worst and the casino house is back to winning. However, the cooler's fortune changed suddenly, and he became the lucky charm of every casino gambler in Vegas, something the casinos who employed him hated. The movie is fun and filled with wonderful performances and sheds more light on the concept of luck and casino gambling superstitions.
All the movies listed in this article have one thing in common, yes, casino gambling. Besides being great movies, they showed how casino gambling originated, especially in the U.S. These movies are classics and set when online casinos and gambling weren't in existence. It also answers specific questions about the casino gambling industry, including strategies, addictions, luck and superstitions.