Over the years, many movies have had a strong gambling theme and some of the best films produced were based on gambling or have taken place in casinos. For any film buff that also loves the thrills of casino gaming, these movies are a must-watch. There are many reasons why people love to watch gambling movies. They often present memorable characters and feature amazing scenes from land-based casinos. Even if you have never visited Vegas, you can enjoy the glitz and glamour of the Strip through some of these great movies.
It is hard to choose the absolute best gambling movies ever made simply because there have been so many. Here, you can learn a bit about some of the most popular movies that have been released that feature a gambling theme. These top-rated films have attracted millions of viewers and while they are not new, they continue to be on the list of the best movies of all time. When you are done with the movies you can try to visit onlinecasino-southafrica.co.za to find a list of quality gambling options on land or online in South Africa.
Casino Royale
This movie was a re-make from the original 1967 film that had the same name. James Bond fans and lovers of casino action will appreciate this movie as it is packed with action and entertainment. With class, risk, and wealth radiating as main themes, this classic casino movie has remained a top choice for fans of films with a casino theme.
Casino
This Martin Scorsese film from 1996 is still a great choice for a casino-themed movie night. With this film, viewers will see the two faces of Vegas, the glitz and glamour and the cruel dealings. The movie does a great job of illustrating the dark realities of casino gangsters and offers endless action. Instead of featuring scenes focused on gambling, the movie depicts the story of the activities of mobs in Vegas prior to casinos being taken over by corporations.
Ocean's Eleven
Ocean's Eleven is one of the most popular movies that has a casino setting and a gambling theme. This movie tells a thrilling story of a casino heist and the remake stars George Clooney, Matt Damon, Andy Garcia, Brad Pitt, and Julia Roberts. With an amazing cast, you will enjoy this edge-of-your-seat thriller as you watch the team put together a plan to rob three of the major casinos in Vegas. Targeting the popular venues, The Bellagio, Mirage, and MGM Grand, you will see scenes from these major resorts as the movie plays out.
One of the interesting facts about his movie is that during filming, the crew was allowed to tap into the security feed at The Bellagio, obtaining real footage that is used in the movie.
21
Based on a true story, 21 is one of the more modern casino themed movies to hit the big screen. The movie was set in an era prior to online gambling and is a tale of a math professor at MIT that trains a group of students to count cards. They travel to Vegas to use their skills and win at many major casinos on the Strip. This thrilling movie is full of adrenaline-filled excitement and would easily be unbelievable if it hadn't actually happened! Any fan of blackjack games and card counting will enjoy taking in this great movie.
Rounders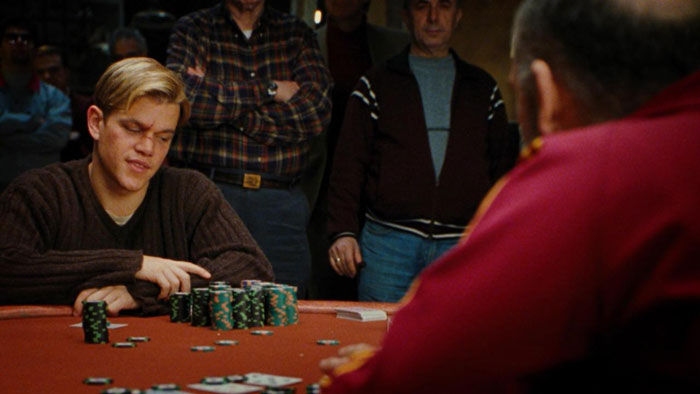 Rounders is a casino classic that was released in 1998 and stars Matt Damon as a law student that has an amazing talent for playing poker. Damon, which plays the lead character Mike McDermott, loses his money to a Russian mobster and vows to cease gambling. When his old friend is released from prison, he soon finds himself back at the tables to help repay his friend's debt. Rounders is considered one of the best movies for fans of poker.
Maverick
This film from 1994 stars Mel Gibson, James Garner, and Jodie Foster and is set in the Wild West where the main character attempts to raise money so he can enter a Winner Take All poker tournament. The movie tells the story of a professional gambler named Bret Maverick who chooses to beat his enemies at poker instead of engaging in a duel.
Uncut Gems
This movie has Adam Sandler playing a serious role instead of the comedy parts he is often known for The movie was released in 2019 and is a gambling crime drama where Sandler plays the role of a gems dealer from New York. He also has a gambling addiction that pushes him to make risky bets to recoup losses. By lending a precious gem to a high-profile buyer, you will surely be enthralled by the complete storyline and the dramatic role played by Sandler. This is one of the great newer gambling movies to be released.