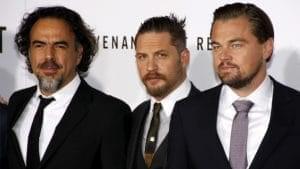 He is arguably the finest actor that Hollywood has witnessed over the past two decades, but it wasn't until 2016 that Leonardo DiCaprio was finally awarded his first ever Oscar. His role in The Revenant was truly inspiring, portraying frontiersman Hugh Glass in the American semi-biographical epic. It was DiCaprio's sixth Academy Award nomination and admittedly, it was a very long time coming for the American actor.
You'll be hard-pushed to find a film starring DiCaprio that isn't brilliant, the 44-year-old quite often becomes invested and researches his roles to provide maximum effect on set.
Here, we take a look back at DiCaprio's eagerly awaited Oscar for his role inThe Revenant.
What he had to say on making the movie
It's no secret that filming The Revenant was a grueling and arduous task for DiCaprio, but the star was more than prepared for the role:
"There were so many monumental undertakings in this film; we could talk at great length at the bear sequence, the horse sequence, the bison sequence, the rapids sequence, fighting with Tom Hardy, who is like a bear in his own right. But most of the stuff was so meticulously planned out. We would rehearse all day long, and every single department needed to work like a Swiss watch," DiCaprio told Variety.
Those who have seen The Revenant will notice how DiCaprio is effectively mute in large sections of the film, and the Blood Diamond star couldn't help but revel in the thought:
"I knew this was going to be somewhat of a silent performance; that's part of what was exciting. But more than anything, I think I learned a lot about being an actor on this movie. It has a lot to do with trust. Trusting the people you're working with, giving yourself over to a unique process, and trusting that if the people you're working with are committed like Alejandro, you can focus on being in the moment and rely on your instincts and trust the journey," he added.
Acceptance speech
Although DiCaprio isn't available to bet on best leading actor for this year's Oscars, he has been in the driving seat on five separate occasions before clinching his much-deserved award in 2016.
DiCaprio was always primed to eventually land an Oscar, and his acceptance speech was tailored towards climate change which might have surprised some film lovers, but it shows there's more to him than just acting:
"Making The Revenant was about man's relationship to the natural world. A world that we collectively felt in 2015 as the hottest year in recorded history. Our production needed to move to the southern tip of this planet just to be able to find snow. Climate change is real, it is happening right now. It is the most urgent threat facing our entire species, and we need to work collectively together and stop procrastinating. We need to support leaders around the world who do not speak for the big polluters, but who speak for all of humanity, for the indigenous people of the world, for the billions and billions of underprivileged people out there who would be most affected by this. For our children's children, and for those people out there whose voices have been drowned out by the politics of greed. I thank you all for this amazing award tonight. Let us not take this planet for granted. I do not take tonight for granted. Thank you so very much."