There's something about casinos that makes them the perfect backdrop for all kinds of movies. Maybe it's the glamour or maybe it's the drama that's unfolding in them as fortunes are won or lost on the turn of a card or the spin of a wheel. Either way, they've proved irresistible to film makers in virtually every genre, as our top ten list only goes to show.
Casino
Scorsese's 1995 mafia follow-up to Goodfellas and his second collaboration with Nicholas Pileggi starred De Niro as Ace Rothenstein, a gambling handicapper in charge of the fictional Tangiers Casino in Vegas. The story's set in the mid-1970s when the mob was gradually losing its grip on the city and big business was starting to move in. These tensions underpin all the other action around the casino making for a complex and, thanks to the presence of Joe Pesci's character, Nicky Santoro, very violent tale.
Run Lola Run
A surprise hit from the 1999 Sundance Festival, this indie film from Germany also found great favor with reviewers everywhere. It's one of the highest of high concept movies with the simple plot that Lola needs to raise 100,000 deutschmarks to save her boyfriend from being murdered by kidnappers. With the action confined to a tight 80 minutes, it's a breathless race against the clock with the highlight being the scene when Lola turns to roulette to try to win the money. The casino scene in which she wins on two successive spins of the wheel may stretch credibility but in the context of the movie, it's perfect.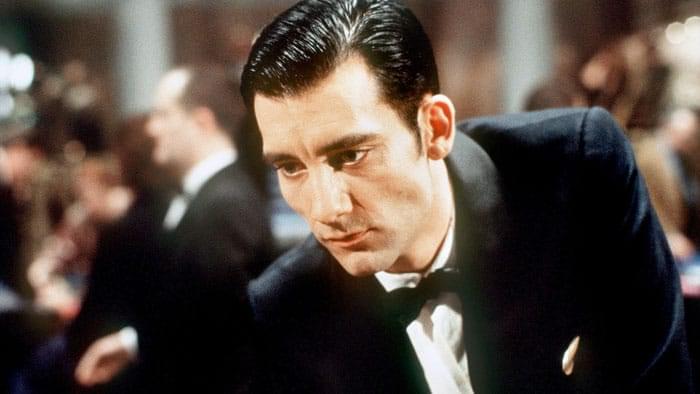 Croupier
A low-key hit that may have passed under many film fans' radar, this 1999 movie directed by Mike Hodges helped to launch the career of Clive Owen. In it he plays an aspiring writer who is struggling for cash until he finds that his father has secured him a job as a croupier in an up-market London casino. He is gradually drawn into cheating the casino and agrees to help in a planned robbery, allegedly to help clear his girlfriend's gambling debts. It's a dark and atmospheric film with many plot twists and turns, not least that the whole robbery had been set up by his father and he is a mere pawn in the proceedings.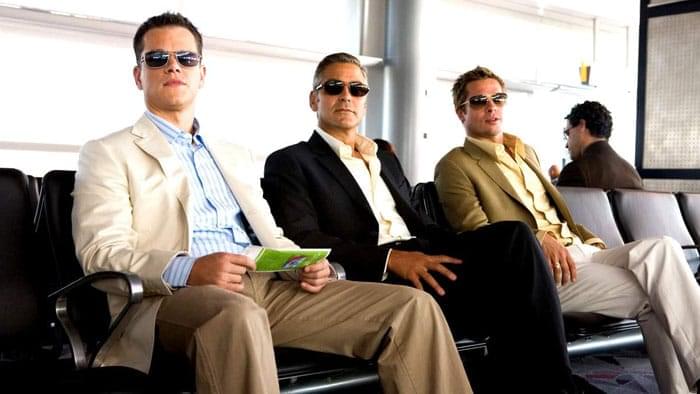 Ocean's 11
Stephen Soderbergh lent his not inconsiderable talents to this mega-star heist story from 2001, helping to raise it above the standard blockbuster it could have been. It's a re-make of the 1960 Rat Pack film of the same name and the starry line-up included George Clooney, Matt Damon, Julia Roberts, Brad Pitt and Andy Garcia. It can be hard to keep up with the crossing and double crossing as the team try to make off with the millions but it's worth sticking with it for the final scene as the they leave one by one in front of the Bellagio casino's iconic fountains.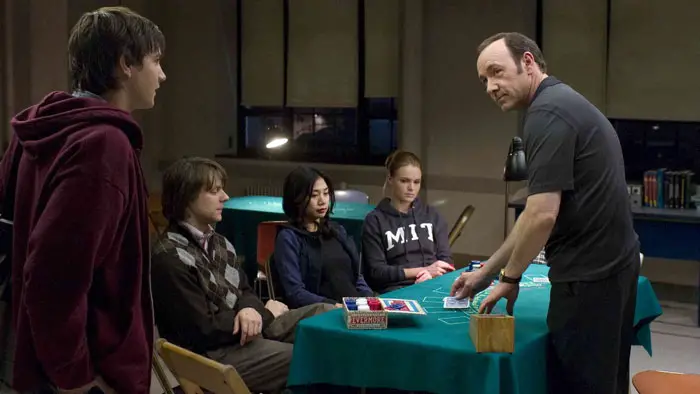 21
21 is a re-imagining based on the true story of a group of maths students from MIT who were recruited by a mastermind, here played by Kevin Spacey, to run a highly organised card counting scam in Las Vegas casinos. The actual scam took place over the course of around 15 years using an ever-changing group of students, but the film simplifies the story and focuses on Ben Campbell played by Ben Sturgess whose maths skills first attract the attention of Spacey's Professor Mickey Rosa.
Casino Royale
It's poker that was the game in Casino Royale as Daniel Craig made his first ever appearance as James Bond. In the standout scene from the film, he has to overcome poisoning by arch enemy Le Chiffre to avoid losing millions of pounds of the government's money. Although 21 was a huge hit, the drama of this scene perfectly encapsulates why poker is better than blackjack when it comes to creating a Hollywood hit. Comparing the poker in this game with the blackjack in 21, it soon becomes clear that the greater complexity and subtlety of the former makes it a far more cinematic game to savour with twists and turns and different outcomes against a specific opponent. If you then imagine replacing it with blackjack which is played against the house, then there's really no comparison at all!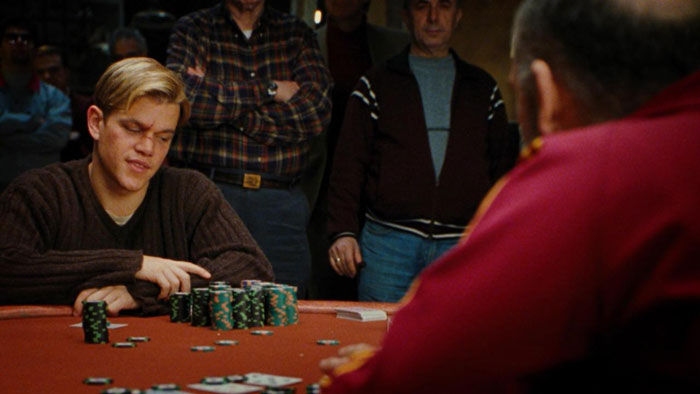 Rounders
Matt Damon first cut his acting teeth casino-wise in this 1998 film directed by John Dahl and also starring Ed Norton and John Malkovich. Damon plays a law student with an unfortunate poker habit which sees him lose heavily to a Russian mobster played by Malkovich. He vows to give up the game until an old friend played by Norton comes into his life asking for financial help. In a bid to save him Damon gets involved in a high stakes game with the Russian – as to how he does in it, you'll just have to seek out the film.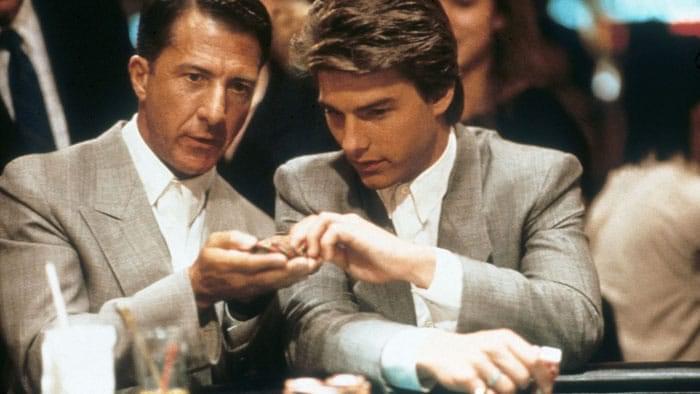 Rain Man
Although not a casino film as such, Rain Man sees Tom Cruise paired with Dustin Hoffman, in one of the defining movies of its time. Hoffman plays Raymond, the autistic brother of Cruise's character Charlie. Charlie only learns of his brother after the death of their father as most of his estate has been left to Raymond, so he befriends him and successfully gets him to win heavily at blackjack by counting cards in a Las Vegas casino. Both a big critical and commercial success, the film also won no less than four Oscars.
The Hangover
Proof that casinos can provide the perfect backdrop to virtually any genre of film, 2009's The Hangover was the first of a trilogy that surely underlines the expression "what happens in Vegas stays in Vegas". It tells the story of an ill-fated bachelor weekend in Sin City involving drugged nights out, strippers, gangsters and even Mike Tyson's pet tiger in a hotel room. It might all sound like frivolous rubbish but the script's great and the performances from Bradley Cooper, Ed Helms, Heather Graham and Zach Galifianakis carry everything in hilarious style.
Leaving Las Vegas
However, laughing is the last thing you'll be doing in this masterpiece from Mike Figgis starring Nicolas Cage in one of his greatest roles, ably supported by Elisabeth Shue. He plays an alcoholic and washed up screen writer called Ben Sanderson who heads for Las Vegas to drink himself to death. Shue's character, a prostitute called Sera takes him under her wing and tries to save him from himself. The story is made all the more poignant against the pleasure-filled atmosphere of Vegas as Cage heads inevitably towards death.